My kids love computers. They really love doing their school work on the computer.  We've had a few educational games for the younger grades, but most computer school work is for the high schoolers in our house.
Which is why my 5 and 7th graders were so excited to try Big IQ Kids. And they have LOVED it!
Big IQ Kids is a really cool website where the kids can learning spelling, vocabulary, math and U.S. states. There is even a SAT Vocabulary Prep section. My two have learned a lot using it. They are always telling me something new they learned about one of the states.
from Zach – 5th grade – "It's fun. I learned that Idaho produces more potatoes than any other state. The states are fun. Big IQ Kids is awesome!"
from Abby – 7th grade – "The math is hard.  The states are fun. The funniest part about it is the games."
The spelling & vocabulary programs are free! There are even free versions of math and the states. They do have premium versions of math and the U.S. States with more options, you can see their Pricing page for more information.
All of the subjects can be customized. Since we started Big IQ Kids at the beginning of the year, I just went with their lists for spelling and vocabulary. But you can upload your own spelling lists.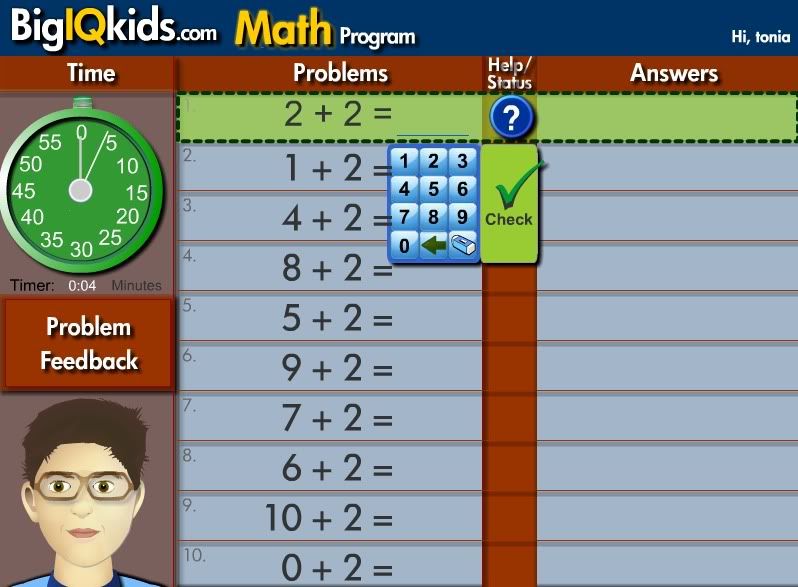 In math, you choose how many problems are on a page, the difficulty of the problems, and you can match it to what they are learning in their math book. It's a great way to re-enforce what they are learning. You can even customize the states, adding additional information for them to learn. They even get a State Master Certificate when the finish!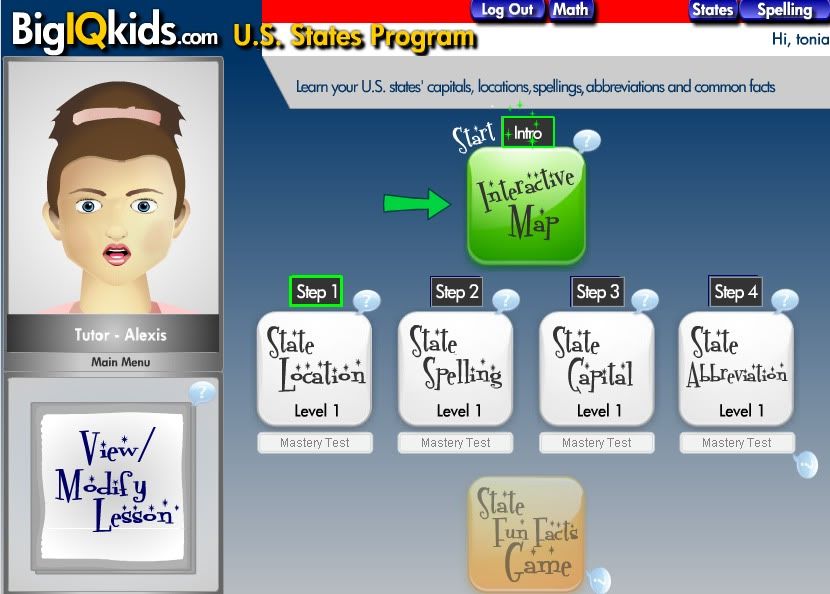 And as Abby mentioned, there are games to play. As the kids do their assignments, they earn coins. They can then spend the coins on games. No work, no play. lol My kids want to do extra work, so they can play more games. lol The coins can also be used to personalize their on-screen buddy.
I think the best feature of Big IQ Kids is that they send you email updates when your child completes an assignment. They are short, one or two sentence emails, letting your know your child's progress.
For example:
"Zachary completed a lesson on BigIQkids.com Math Program and scored 24% .  The lesson had 50 problems and was completed in 1:55 minutes:seconds.  You may want to watch your student take a lesson to see if he/she needs help." – Now clearly, if the boy can do 50 problems in under 2 minutes, he wasn't really doing the problems. So we had a chat, lol, and now he is.  🙂
"Abigail successfully completed the State Abbreviations Lesson – LEVEL 1"
"Abigail did not answer the Illinois summary question correctly on the first try.  Please let Abigail know that the state summaries are an important aspect of……. and paying close attention to these summaries will help Abigail do well on the State Fun Facts Game.
Illinois's question: The capital of Illinois is?  Answer: Springfield" – They even include the answer in the email!
Other educational programs and websites that we have tried didn't have this feature. I find it very helpful, especially when you have more than one student.
Big IQ Kids is Winner of the 2011 The Old Schoolhouse Homeschool Crew Blue Ribbon Award. For more information about Big IQ Kids, visit their  How it Works and FAQ pages.
To read other reviews of Big IQ Kids, visit the Homeschool Crew Review List.

*Disclaimer – I received 2 free premium memberships in exchange for my honest review. I was not required to write a positive review. My opinions are my own. I also did not coerce positive reviews from my children. Their opinions are their own.
Please follow and like us: