As part of The Old Schoolhouse Homeschool Crew I was sent Vintage Remedies for Girls to review.

From the Vintage Remedies website:
Vintage Remedies for Girls teaches healthy and natural living to girls ages 7-13. Our new workbook is packed with over 200 pages covering every aspect of natural living including wellness, nutrition, herbal medicine, immunity, natural cleaning and body care, and the conservative use of valuable natural resources. Girls will learn how to identify unhealthy foods, how to create a healthy real foods menu (and prepare it for some friends!), how to make natural cleaning supplies and skin care, how to make cheese, how to grow culinary and medicinal herbs, how to create basic herbal preparations, and much, much more!
This workbook is flexible and can be used for existing scouting groups, to form new girls groups, as a homeschooling curriculum, or to create fun mommy – daughter projects throughout the year. Each of the 18 chapters includes a brief lesson on the topic, a featured project, instructions for moms or group leaders, and a selection of additional projects on the topic for in depth learning. The book also contains sample schedules to adapt for homeschooling families, scouting groups, etc as well as convenient shopping lists for each project, complete with a resource guide and tips for parents and leaders. 202 pages / Thistle Publications / 2010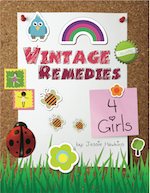 Vintage Remedies for Girls retails for $45. So does Vintage Remedies for Boys. Right now, you can pre-order the new Vintage Remedies for Tweens for $29.95. This non-consumable book contains all the information from Vintage Remedies for Girls AND Vintage Remedies for Boys.
I own a couple of Vintage Remedies books, and would love to have more. So I was quite excited to be sent this book to review. My girls, who have been wanting this book also, were very happy.
Vintage Remedies for Girls is a spiral bound book, so it lays flat for reading. This is also great when you are following a recipe from the book.
Vintage Remedies for Girls is divided into 3 sections:
Food, Nutrition and Culinary Skills – chapters include: Real Food, Kitchen Basics, Healthy Drinks, Snacktime, Sweet Desserts, Local Foods, and  Growing Your Food
Health and Body -chapters include: Beautiful You – Naturally, Immunity and Prevention, Coughs and Colds, Summertime Fun, Backyard Medicine, Aromatic Oils
Natural Living – chapters include: Hospitality, Cleaner Cleaning, Green Gifting, Reducing and Reusing, A Natural Home
Each chapter has recipes, projects and ideas for the information covered in that chapter. In the back of the book, there is an Appendix with quizzes for each chapter.
There is also an Appendix with Schedules for Groups and Homeschools. The schedules included will help you use this book as a one or two year curriculum. The one year schedule has you doing one chapter every two weeks. The first week being used for the lesson, any supplemental reading, reviewing the projects and tips and taking the quiz. The 2nd week is devoted to completing the projects and review. The two year schedule has you doing 9 chapters a year, one a month.
The lessons are written so the girls can read and understand on their own. The lessons can also be read aloud if you have more than one daughter working in the book. While Vintage Remedies for Girls is recommend for ages 7-13, in my opinion, this book can be used for older teen girls, also. In fact, one of my daughters using this book is 16. Vintage Remedies for Girls is full of good, basic information that is useful for all ages.
All the projects look easy to complete. with most items being available at the grocery or health food store. The projects are intended to be mother-daughter projects. Which makes them even more fun!
I had a hard time deciding which chapter to begin with, as they all look interesting. I finally decided to just start at the beginning and work our way through the book. We started with the Real Food chapter. The recipes included in this chapter are for Strawberry Fruit Bars, Homemade Pizza, Chewy Chocolate Almond Granola Bars, and Pasta Primavera.
The girls and I are all loving doing this book together. We look forward to completing the rest of Vintage Remedies for Girls. Even though, we haven't completed the whole book, I have read through it. I truly didn't find a single thing I disliked. I love Vintage Remedies for Girls!
Vintage Remedies has curricula for children ages 2-12. As well as courses for adults. I hope to take a course myself next year.
You can also find Vintage Remedies on Twitter and Vintage Remedies on Facebook.
See what other The Old Schoolhouse Homeschool Crew Members are saying about Vintage Remedies.


*Disclosure of Material Connection: I received one or more of the products or services mentioned above for free in the hope that I would mention it on my blog. Regardless, I only recommend products or services I use personally and believe will be good for my readers. I am disclosing this in accordance with the Federal Trade Commission's 16 CFR, Part 255: "Guides Concerning the Use of Endorsements and Testimonials in Advertising."
Please follow and like us: