As part of The Old Schoolhouse Homeschool Crew, I received a PDF version of TruthQuest History Beginnings to review.
From the TruthQuest website:
TruthQuest History is a deep and rich literature-based history study…but with a difference. You will not learn the story of mankind; you will learn the lovestory of mankind. You will not focus on the rise and fall of human civilizations; you will focus on the arrow-straight line of God's unchanging existence, power, love, truth, and plan for civilization. You will not simply 'meet the culture' or 'get the facts;' you will probe the truths of history so deeply that your students will be equipped to change their world!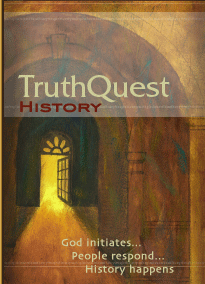 TruthQuest History Beginnings covers Creation, Old Testament, Ancients and Egypt and is over 300 pages. Beginnings is perfect for students in grades 5-12, but younger siblings can participate. The guide includes book recommendations for all ages. No other books are needed, however. All you need are the Beginnings Guide and your Bible. Companion resources are also available for purchase, a lapbook, notebook and timeline. You can view the Beginnings Table of Contents.  The first few pages of the book are addressed to the parents. This section offers guidance on how to use the book. There are no lessons plans in TruthQuest History Guides. You set your own schedule. The lessons are numbered and have suggestions for each grade level.
I'm using TruthQuest History Beginnings with my 5th, 7th and 11th graders. There is a lot of reading, excellent discussions and suggestions for activities and projects. I'm finding TruthQuest History to be a great history curriculum the whole family can use together.
Also included are Think Write exercises interspersed throughout the guide to help the students piece together the most important lessons of history. The Appendix has Think Write responses so you can check your students answers.  After each Think Write response in the appendix, there are a couple of paragraphs that can be read and discussed. There are no tests or quizzes included in the guide.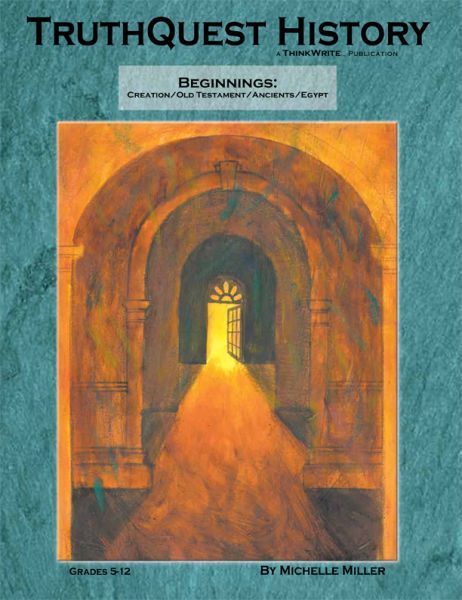 From the TruthQuest History website:
TruthQuest History is…
…Always your servant; never your master . TruthQuest History does not presume to tell you what to do each day, because the days of each family, the children in each family, and the callings on each family are different. You simply work your way through the guides at your own pace, scheduling as you desire, feeling free to omit as you see fit. Do not worry, though. Even with this freedom, TruthQuest History offers full support. It provides the secure and steady current impelling you forward, without making you feel defeated if you daily travel a different distance than others
TruthQuest History has 9 chronological guides for World History – from Creation to the year 2000. These guides can be used for middle and high school students. There is are American History guides for grades 1-5. All guides are available in print or PDF format. Prices for the print guides range from $24.95 to $34.95. Prices for the PDF guides range from $19.95 to $29.95. The Beginnings Guide PDF I received sells for $23.95. Because there are  two different levels to chose from, they have a How to Choose page to help you.
Here is a sample of the Beginnings Guide I received. You can also view other samples of Truth Quest History.
There are a great deal of Reference books cited in Truth Quest History. That page has a listing of all the books used in all the guides. Here are theReference Books used in the Beginnings Guide. None of these reference books are required. They are suggestions to help you in your studies.
See what other The Old Schoolhouse Homeschool Crew Members are saying about Truth Quest History Guides.
.

*Disclosure of Material Connection: I received a free PDF version of Amazing Animals by Design in the hope that I would mention it on my blog. Regardless, I only recommend products or services I use personally and believe will be good for my readers. I am disclosing this in accordance with the Federal Trade Commission's 16 CFR, Part 255: "Guides Concerning the Use of Endorsements and Testimonials in Advertising."
Please follow and like us: