As part of The Schoolhouse Review Crew, I received WealthQuest for Teens to review. WealthQuest for Teens was designed by a teacher after talking to her students about money management. She realized the students wanted financial education, so she developed this program from what she had learned in her own life. This program is intended for teens, ages 14-19, but can also be used by an older student. If you have a mature 13-year-old who is interested or earns their own money, the program would also be helpful to them. I used WealthQuest with my 16 and 17 year olds. I am assigning it to my 14 year old next.  

WealthQuest for Teens consists of three parts. First, is a video and interactive workbook seminar, which is split into seven modules. These videos are watched on the computer. Both my students finished these during one school week. The videos are short, informative, and hold the students attention. The interactive workbook is filled out after watching the video. The questions are answered by the student typing in the answers. These questions are to get the student thinking. Their answers are not saved in the program.   The second part is a workbook for the teens, which includes 30 daily assignments. These assignments are pretty short, and only take about 5-15 minutes a day. This is intended to be done after working through all the modules. This workbook can either be read on the computer with the answers written in a notebook, or printed out so the student can write it it. This is not ink-intensive, (yeah!) so I printed out a workbook for both of my students. Since many assignments have the students make lists, having the workbook printed out makes a nice notebook that the student can refer back to. My students usually did more than one assignment a day since they were short. The third part is for the parents, and is a 60-page pdf book talking about the importance of teaching money skills to our teens even though (or especially when) we don't feel like we offer a good example.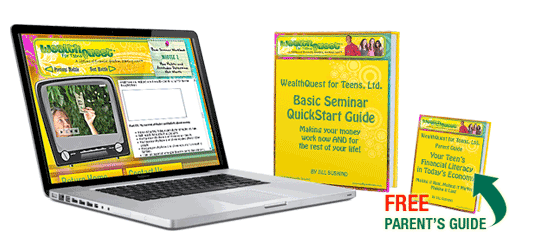 The Parent Guide is not a teachers manual for the program. It's purpose is to inform the parent of the hows and whys to be a good financial example for teens. For parents who have never taken any kind of financial class, this guide is a big help.  It's a fairly quick read, it only took me a couple of day to read, and I found it very helpful. I learned a few things, too. I know there wasn't any financial management class in either of the two high schools I attended. We had to learn everything on our own, the hard way. The Parent Guide is a great addition to this program to equip parents to help their teens. Here are a couple of screen shots from the modules.  
The video is played in the little tv screen, while the student can read through the interactive workbook. Some of the topics included in the modules are Money Habits, 3 Kinds of Incomes, Knowledge about Money, and a Great Money Management System.
The Money Management System consists of setting up categories with "silos"or envelopes. My kids used envelopes. My daughter decided to turn it into a craft project, too, and made her own origami envelopes.
An envelope system is highly recommended to adults by a lot of different financial advisers. I use an envelope with dividers in it myself. It's great to start teens out with the right equipment so they can be successful. WealthQuest for Teens can easily be completed in 6 weeks. By doing more than one assignment a day, my students completed the course in about four weeks. The length of the course can easily be adjusted to your own schedule. http://youtu.be/ajI_Acyp528   WealthQuest for Teens sells on the website for $39.95. WealthQuest is definitely a worthwhile investment for our teens.    

*Disclosure of Material Connection: I received online access to this curriculum in the hope that I would mention it on my blog. Regardless, I only recommend products or services I use personally and believe will be good for my readers. My opinions are my own. I am disclosing this in accordance with the Federal Trade Commission's 16 CFR, Part 255: "Guides Concerning the Use of Endorsements and Testimonials in Advertising."
Please follow and like us: