I recently received 
UberSmart Math Facts
, $24.95,  from 
UberSmart Software
to review.
UberSmart Math Facts
is downloadable software for mastering math facts.
UberSmart Math Facts
can be used with all ages. From at least Kindergarten all the way up to high school, it can even be used by the adult learner.
UberSmart Math Facts
was developed by a homeschool dad, who is a computer programmer, to use with his own children.

UberSmart Math Facts Review
UberSmart Math Facts is not an online subscription. You are able to download the software to all the computers in your home, and use it for all your homeschool students (up to eight students at a time). Perfect for families with several homeschool students! UberSmart Math Facts is for Windows 7, 8, XP and Vista only, with no Mac version available. I had no trouble downloading and using UberSmart Math Facts. While you can put this software on all your computers, each computer stores it's own database. So each child will need to use the software on the same computer all the time so their progress can be tracked.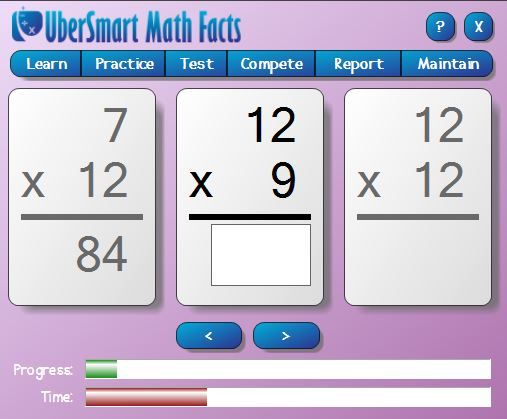 The above picture is a test. The student see the current problem in the middle, as well as the problem before and the problem after. There is a progress bar and a time bar to help the student see where they are in the test, and how much time they have left.
There are no fancy graphics in UberSmart Math Facts. Just simple flashcard like pictures. If you have an easily distracted child, the lack of bright graphics will help them concentrate better. If you have an older child who needs review of math facts, they won't feel like they are using a little kids math program. UberSmart Math Facts can also be successfully used with students with many different learning disabilities.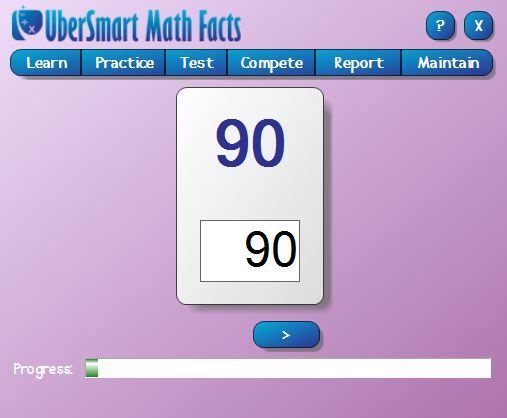 There are three different learning activities with UberSmart Math Facts.
Dot Cards  (like adding domino faces)
Keyboard Entry  (Ten-Key Numbers)
Flash Cards  (add, subtract, multiplication, division)
Within each of these, addition and subtraction is practiced up through the 9's. Multiplication and division has the option to set it to go up to 9's or all the way up to the 20's. If a problem is missed, the card is added to the bottom of the stack. There are tests included in the software. You are able to adjust the time each problem is presented during the test. Students can skip problems while taking the test. However, all problems must be competed for the test to be finished. When a student finishes a test, the program applauds their accomplishment. There is a certificate you can print out when the student has mastered all the math facts.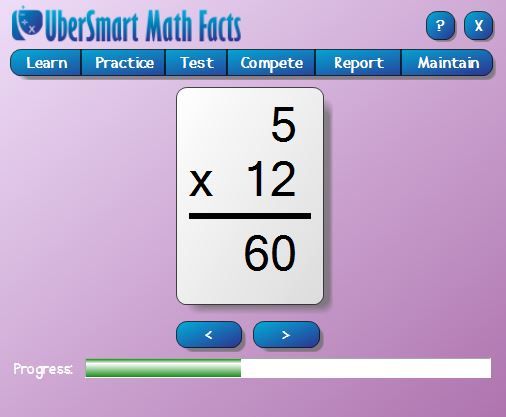 Your presence is not required for the student to use the software. The student can sign in, and work by themselves. The teacher can see reports of how the student is progressing. These reports can also be printed.
I used Ubersmart Math Facts with my 14 year old son. He has needed some help with memorizing math facts. This program has really helped him. I have noticed a definite difference in his work since he started using UberSmart Math Facts. He has been using the software for 30 minutes a day, 4-5 days a week.
If your students need help memorizing math facts, UberSmart Math Facts will be a nice supplement to your math curriculum. Click below to see what other Schoolhouse Review Crew members have to say.