As part of the Schoolhouse Review Crew, I recently received a The Forbidden Book DVD, $19.95, from New Liberty Videos to review.
New Liberty Videos are produced by Brian Barkley, who was a Hollywood producer for Quincy, among others. I used to love to watch Quincy. After becoming a Christian, Mr. Barkley has been producing Christian movies. There are 10 Christian DVD's available on the New Liberty Videos website.

New Liberty Videos The Forbidden Book DVD Review -A Christian Documentary
The short description on the website doesn't even begin to do this DVD justice. The Forbidden Book:  History of the English Bible starts out slow. I even thought that if it kept going like that that I wouldn't like it at all. It quickly  picked up, though. Once the history starts, it will grab your attention. It did mine. I loved it!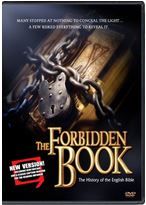 There is a lot of history included that I hadn't heard before. The dvd starts covering God's word with the 10 Commandments, and goes through to the first King James version. Along the way, many of those involved in writing, printing, and translating are mention, including John Wycliffe, Martin Luther, and William Tyndale.
Here are a few of the interesting facts included in the dvd:
-the cost of a Bible in the 1300's might easily amount to the yearly salary of a priest!
-the chapter division were not fully developed in the 1200's
-the verse divisions weren't finished until 1551
-the Geneva Bible was quoted by Shakespeare over 5,000 times in his plays.
-one of King James translators, Archbishop of Canterburry decreed that any printer printing the Bible without the Apocrypha would be fined and imprisoned for one year.
-the first Bible printed in the US was in 1663, a translation for the Algonquin Indians
And much, much more!
I particularly liked seeing a Bible that was printed in 1480, 25 years after the invention of the Guttenberg Press.
We learned what motivated the original writers, translators, and printers of the early Bible. You will be able to see some of their actual writings. We also learned what happened to them for pursuing their call to write the Bible. The ultimate punishment of death. Burning at the stake for most of them. Many of these punishments are seen in drawings.
This is a documentary. There are no flashy graphics, no actors. There is a narrator and many, many pictures and drawings of the people, places, and books mentioned. When you see the pictures of their work, you will be in awe of how much work went into each handwritten copy of the Bible. At least I was.
We watched this dvd together as a family, my husband, myself, and two of our kids, ages 14 and 16. I plan on watching this with my teenagers again. I think I'll break it down into sections so we can remember more of the information and use it as part of our Bible study.
The Forbidden Book:  History of the English Bible is perfect for watching together as a family, using in your homeschool as part of your Bible curriculum or as a family Bible study. The Forbidden Book is 58 minutes long, and suitable for the whole family.However, little ones won't understand much of the material. So for study purposes, I would recommend it for teenagers and up. If you have well studied pre=teens, they may be able to understand the material as well.
To see what others have to say about New Liberty Videos, some Crew members received different dvd's to review, click on the graphic below.