I recently received the book If He Had Not Come, $18.95, by David Nicholson to review. If He Had Not Come is a Christmas book about the birth of Christ and its importance.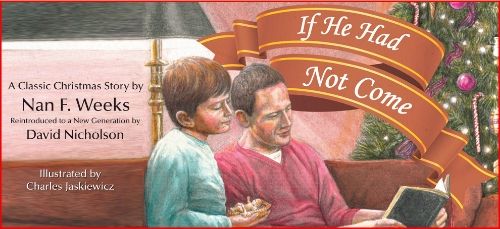 If He Had Not Come – A Christmas Book Review
David Nicholson first heard this story when his own children were small. It was first printed as part of an anthology, Christ and the Fine Arts, by Cynthia Pearl Maus in 1938. Now he is reintroducing the story for today's children.
If He Had Not Come opens with young Bobby hanging his stocking on Christmas Eve, while eyeing all the presents under the tree. After a nice family evening, including reading the Bible, Bobby heads to bed.
Bobby awakens to what he thinks is his father's voice calling him. Thinking it is Christmas morning, he dress quickly, all the while thinking about the gifts he wants. He heads downstairs only to find that there is nothing Christmas related in the living room. and his mother isn't in the kitchen making his breakfast.
After opening the front door to look around, he hears the sound of the local factory. He heads there to see why they are working on Christmas Day. He is surprised when the man at the factory entrance doesn't even know what Christmas is. He continues around town to find that all the stores in town are open, and no one knows what Christmas is.
He heads to his church to find out what is going on. Only to find that the church isn't there! All that was there was a sign that said "If I Had Not Come", and John 15:22. As Bobby continues walking around town, he sees the same sign everywhere. In front of the Children's Home, the hospital, and the homeless shelter. Well, in front of where these buildings should have been. Because He had not come, none of them were there.
Bobby goes home and gets the family Bible. While trying to get to the Book of John, he finds that after the Old Testament, all the pages are blank! On the first black page was written, If I Had Not come.
Then he realizes what a world without Jesus would be like.
Thankfully, young Bobby wakes up to Christmas morning with his family. And a world with Jesus.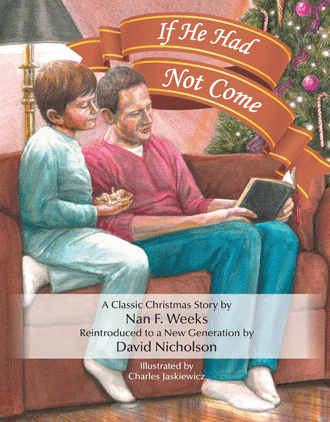 If He Had Not Come is perfect for ages 6 and up. My 14 year old read it himself. I also read the book out loud to my teenagers. While the story may seem like a little kid story, it really isn't.  If He Had Not Come is perfect as a family read aloud. The full page picture will hold the attention of the younger set, while the question of if He had not come will make your older kids, and the adults, think.
There are questions in the back of the book suitable for the whole family, or can be used in Sunday School, or other class setting. The questions are open ended, so there is no right or wrong answers, making for great discussions.
There is a page of Going Deeper section with tops for further study, a few questions, and my Bible references. This section is for older kids, teens and adults. There is also a The Gospel Message page in the back of the book.
There are a few ideas in the back of the book to help you celebrate Christmas with your family. Tips for keeping Christ in Christmas.
I enjoyed reading If He Had Not Come out loud to my kids. And the discussions that followed. It's a great book, with a powerful story line. If He Had Not Come would make a great Christmas gift, for a child, or a family gift.