From the NorthStar Games website:
Wits & Wagers Family simplifies the rules and scoring system of the popular Wits & Wagers. Now families and kids can get into the Wits & Wagers action! First, every player writes down a guess to a fun question. Then players try to score points by choosing which guess is closest to the right answer without going over. That is it!
The game features 300 new family-friendly questions. And even better than that, Wits & Wagers Family includes Meeples– fun, cute, human shaped wooden pieces that the players use to select which answers they think are correct. Meeples have been a hallmark in European style strategy games for years, but this is the first time they have made an appearance in a party game.
So check out Wits & Wagers Family, the game that combines laughter and learning in a way that all ages can enjoy together!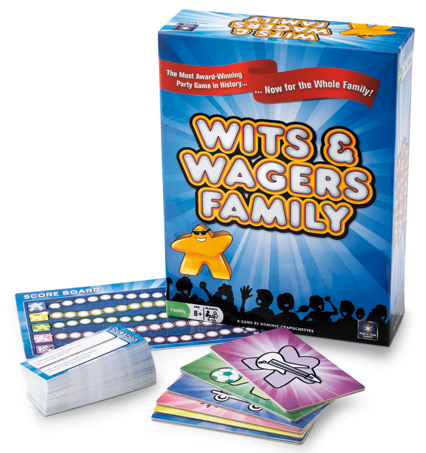 Wits and Wagers is for ages 8 and up for 3-10 players. We found Wits and Wagers to be very easy to learn. I just read the directions out loud one time and we were playing.
To play the game, you take turns reading the questions. Everyone writes down their answer on their answer board. All the answers are numbers. And you don't have to worry about having the right answer! Here's one of the questions we had.
How many (brand) Animal Cracker shapes are there?
After everyone writes down their number answer, you put the answer boards in the center of the table in numerical order. Now for the fun part. Everyone places their 2 Meeples games pieces on the answer they think is the right one. You don't have to put your Meeples on your own answer! You may think someone else wrote down a number that is closer to the real answer. You can place both your Meeples on one answer or on two different answers. If you think everyone guessed too high, you can place your Meeples on the #1 board included.
Once everyone has placed their Meeples, the player that read the question reads the correct answer. The answer board with the number closer to the correct answer, without going over, is the winner. The person who wrote that answer gets a point, and everyone who placed a Meeple on that answer gets points. The first person to get 15 points wins. If 2 people go over 15 points on the same turn, the person with the highest score wins. If there is a tie, the youngest person involved in the tie wins! My youngest son loved this rule. Although he was looking forward to it, we never had a tie, and didn't have to use this rule. lol
We didn't come across any questions that we found objectionable. All the questions were fun, and several had us saying 'I know that!" The "how many teaspoons are in a tablespoon" question had all the kids placing their Meeples on their sisters answer board. "She'd know this one!" lol  One even had my daughter yell out "I studied that!" We only skipped one question that asked how many movies did a certain movie actor make. The kids had never even heard of the actor or any of his movies, so we skipped it.
We love to play games as a family and Wits and Wagers will definitely be included in our game nights. Oh, that particular brand of animal crackers comes in 19 different shapes! 🙂
Wits and Wagers is available online and in stores. Visit the Northstar Games website to find a store near you. It retails for $19.99.
See what other Homeschool Review Crew members are saying about Wits and Wagers Family.
*Disclosure of Material Connection: I received one or more of the products or services
mentioned above for free in the hope that I would mention it on my blog. Regardless, I
only recommend products or services I use personally and believe will be good for my readers.
I am disclosing this in accordance with the Federal Trade Commission's 16 CFR, Part 255:
"Guides Concerning the Use of Endorsements and Testimonials in Advertising."
Please follow and like us: