As a part of The Schoolhouse Review Crew, I received the book Mr. Pipes and the British Hymn Makers, in ebook form, to review.

Christian Liberty Press has been producing quality books for homeschoolers for many, many years. When I started homeschooling in 1991, they were one of the companies I purchased books from for our first year.
I've used several Christian Liberty products over our twenty years of homeschooling and been pleased with all of them. Mr. Pipes and the British Hymn Makers has proven to be no exception.
Mr. Pipes and the British Hymn Makers, written for grades 7-10, is the first book in a series written by Douglas Bond. It tells the story of two teens who are on vacation in England. They meet and make friends with an elderly English gentlemen called Mr. Pipes. Mr. Pipes is his nickname, because he plays the big pipe organ in church.  As Mr. Pipes spends time with the teens, he teaches them about famous British hymn writers. Since the teens haven't spent very much time in church, Mr. Pipes helps them learn about the value of traditional praise and worship.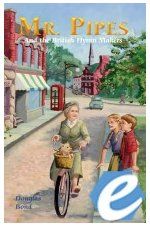 I used Mr. Pipes and The British Hymn Makers as a read aloud. My 12 and 13 year olds, (6th and 8th grades), listened the most, with the 16 and 17 year olds, (11th and 12th grades), listening some of the time. The book is an awesome family read aloud! In the beginning of the book, sometimes you can see the teens behaving as, well, teens. A few sarcastic remarks, an occasional rolling of the eyes. That is what makes it easy for kids to relate to the characters. As the teens in the book spend time with Mr. Pipes, they stop those behaviors. The author did a good job of portraying how the teens felt about spending time someplace they consider boring and with no value.
The hymn writers included are Thomas Ken, Isaac Watts, Charles Wesley, William Williams, John Newton, William Cowper, Augustus Toplady, Thomas Kelly, Henry Francis Lyte, James Montgomery, Horatius Bonar, Reginald Heber, William Walsham How, Samuel Stone, Anna Waring, Cecil Francis Alexander, Francis Ridley Havergal, and John Bunyan.
I love that the book includes a hymn with the music for each writer. If you have a musician in the family, you can learn to play and sing all the songs.
If you want to help your children devlop a love for traditional hyms, Mr. Pipes and The British Hymn Makers is the book for you. If your family already loves hymns, this is still a great, wholesome book for the whole family to read.
Mr. Pipes and The British Hymn Makers is available on the Christian Liberty Press website as a PDF download for $8.79. You can also purchase a a Mr. Pipes and the British Hymn Makers print book for $9.89. There are 3 more Mr. Pipes books in the series available on the Christian Liberty website.

*Disclosure of Material Connection: I received this ebook  in the hope that I would mention it on my blog. Regardless, I only recommend products or services I use personally and believe will be good for my readers. My opinions are my own. I am disclosing this in accordance with the Federal Trade Commission's 16 CFR, Part 255: "Guides Concerning the Use of Endorsements and Testimonials in Advertising."
Please follow and like us: