*This fall decorating time post contains affiliate links
I decorated for fall early this year. It was still summer. lol I don't usually decorate that early. But I was just in the mood to decorate for fall this year. Maybe because I was so glad for summer, and it's hot weather, to be over!
Whatever got to me, lol, when I was shopping at Dollar Tree, I found some great fall flowers and decor. So I bought a lot. lol
Let me show you what I did!
I bought everything in the picture below at Dollar Tree. My favorite is the pumpkins with the sunflower and a little gourd on top. So cute!
The flowers are just gorgeous!
See the pumpkins? Are they not the cutest?!
I put one of the pumpkins together with some smaller ones that I already had on a tray for my coffee table/ ottoman/ toybox.
Here it is in the living room. I made the sunflower pillow, so easy! You can see some of the other flowers that I bought in the back in a basket with a few other flowers I already had.
I used two of the leaf garlands on a wreath for my front door. My husband made this wreath from our own grapevines. It's not perfectly round, but it's ok. It gives it character! Wreaths are not just round anymore! The leaf garlands, and a piece of burlap ribbon I already had, and I love it!
I fell in love with these flowers that have burlap petals inside. I made the vase by covering a coffee drink glass bottle with rope. So cute! And you'd never know that it was from a drinking bottle!
I have this tiered tray on my dining room table. I used the last two pumpkins that I got. One, along with one of the leaf garlands is on the bottom tier with a few other little things I already had. One is on the top tier with another sunflower, a burlap flower, and a seed looking thing I already had. I also have a string of battery operated lights on it. You can see the string. They are little peaches, lol, I didn't have any pumpkin lights. If you don't look too close, they could pass as little pumpkins. lol I put a piece of burlap that I already had under the tray. I love it!
Thanks for checking out my fall decorating!
Have you started decorating for fall yet??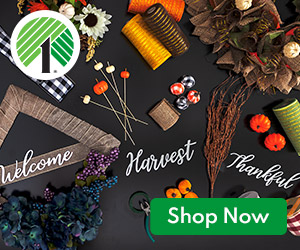 *This post contains affiliate links. If you click the links, and make a purchase, I may receive a small commission at no cost to you.
Please follow and like us: