From the Excellence in Literature website:
Introduction to Literature is a college-preparatory literature and composition course. Focus works, including novels, short stories, poems, and drama, have been selected for literary quality, and for their place in the historical development of literature. Context readings provide background information about the author, the historical period, and the literary and artistic context of the focus work.
Students will gain an understanding of the development of literature and will practice the skills of close literary analysis through essays, approach papers, and other evaluative writing.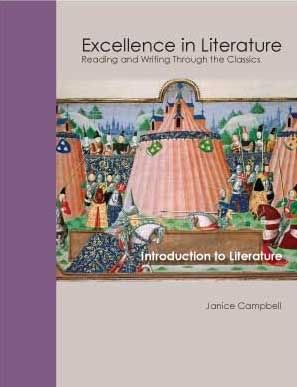 As part of The Old Schoolhouse Homeschool Crew, I received Excellence in Literature English 1: Introduction to Literature, E-book edition, to review.
English 1: Introduction to Literature has 9 units. One has 6 Short Stories, the other 8 units are on individual books. There is also an Honors Option for every unit. With additional books to read, and additional writing for the student to do. Each unit is 4 weeks long and has week by week lesson plans. You can mix and match the units to create a custom study plan for your student. Here's an article on how the books were chosen for Excellence in Literature.
The units are self-directed, which encourages independent learning and college-style study habits.
Every volume contains instructions, models and a glossary, so you can start with any book and know exactly what to do  when.
We started with Unit 6 Treasure Island by Robert Louis Stevenson.  The Honors Text is Kidnapped by Robert Louis Stevenson. There are links included in the unit for you to read online more of Robert Louis Stevenson works, including letters from him.  There's information about Robert Louis Stevenson, and a list of books to read to learn more about him. There is also a list of poetry by him as well as other media. Audio, Video, Art, Music. I was impressed with the amount of information available in this book.
There is a writing assignment every week. For Unit 6, these include an author profile, historical approach paper on the period from 1650-1725, and a 600 word essay. The rough draft of the essay is written during week 3, and edited week 4. A very doable schedule.
There is also a formats and models section with essay samples, evaluation checklists for the essays, a glossary and additional resources at the end of the book. All very useful and informative.
I found Excellence in Literature – Introduction to Literature to be very well written and researched.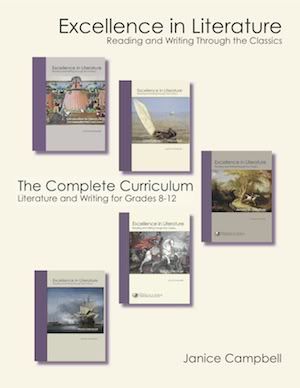 Introduction to Literature: English 1 print book is $29. plus shipping. You can also purchase it in E-book form for $27. You can also purchase all 5 levels, The Complete Curriculum for $139. For more information, visit the Excellence in Literature website.
See what other Homeschool Crew Members are saying about Excellence in Literature.

*Disclosure of Material Connection: I received one or more of the products or services
mentioned above for free in the hope that I would mention it on my blog. Regardless, I
only recommend products or services I use personally and believe will be good for my readers.
I am disclosing this in accordance with the Federal Trade Commission's 16 CFR, Part 255:
"Guides Concerning the Use of Endorsements and Testimonials in Advertising."
Please follow and like us: