As part of The Old Schoolhouse Homeschool Crew, I received REAL Homeschool Spanish to review.
I received the downloadable version of REAL Homeschool Spanish which included the book (featuring 10 units, 55 vocab clusters and 15 idea sections of ways to further your learning), a 179 page activity book featuring all kids of activities – word searches, crosswords, word scrambles and lots more, all the audio files you need, an answer guide and the daily curriculum guide/planner.
From the REAL Homeschool Spanish website:
"We believe that a relaxed environment encourages positive language learning. Too much grammar and too much emphasis on perfectly correct speech hinders the enjoyment and progress of learning. Slow and steady practice promotes correct speech over time. For these reasons, we have limited our grammar sections to a minimum and stress communication and enjoyment first."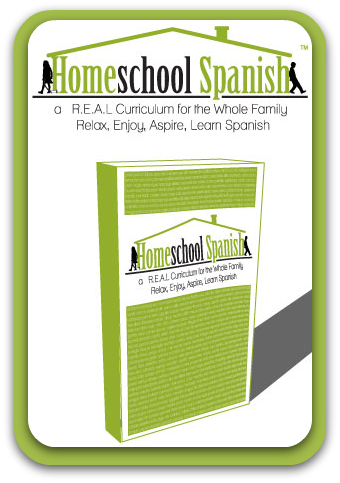 REAL Homeschool Spanish is designed to be enjoyable for the whole family and you do not need to know how to speak Spanish in order to have fun learning the language with your child. The program is for ages 5-13, or Kindergarten through 7th or 8th grade.
This is a great curriculum to use with with all ages and grades at the same time. I've been using this with my 13 yo and my 11 yo. We are loving it! They have loved the activities and making their own flashcards. I love that the audio clips are short, making it easier to replay the clips you need.
The Daily Curriculum Guide is 48 weeks of daily lesson plans for the 10 units of study. While it is sold separately, I think it is well worth the $10. to purchase. It tells you what clips to listen to when and what activity pages to do every day. The Daily Curriculum Guide also tells you what other activities you can do to reinforce what your kids are learning. It even has a place to write notes. It is in a week at a glance format, making it easy to see what's next.
While I took Spanish in high school, I had forgotten nearly all of it. I didn't remember more than a few words to teach my kids. Real Homeschool Spanish is really working for us. We are learning together. And that makes learning fun for the whole family.
You can see REAL Homeschool Spanish Samples, where you can also listen to sample audio clips.   REAL Homeschool Spanish also has a Cultural Links section. A great addition to your Spanish studies.
There are several options for purchasing REAL Homeschool Spanish:
$49.95 for download version of the Book, Activity Book, Answer Book, and audio files
$59.95 for all of the above plus Daily Curriculum Guide
Hard copies (with audio Cd's) of above are available for $89.95
$99.95 with the Daily Curriculum Guide with free shipping
See what other TOS Homeschool Crew members are saying about REAL Homeschool Spanish.

*Disclosure of Material Connection: I received one or more of the products or services mentioned above for free in the hope that I would mention it on my blog. Regardless, I only recommend products or services I use personally and believe will be good for my readers. I am disclosing this in accordance with the Federal Trade Commission's 16 CFR, Part 255: "Guides Concerning the Use of Endorsements and Testimonials in Advertising."
Please follow and like us: