As part of The Old Schoolhouse Homeschool Crew, I received a Progeny Press Literature Study Guide to review. I received the PDF version of the Pride and Prejudice Study Guide. This Study Guide is recommended for 9-12 grades.

From the Progeny Press website:
The Mission of Progeny Press
"To teach our children to think clearly, to understand literature, and to rely on the scripturefor truth and values, and enjoy themselves while they do it!"
At Progeny Press we are committed to teaching good cultural literature, examined from a Christian perspective. We believe in the equation "Biblical Truth + Cultural Relevancy = Effective Christians." Take away biblical truth and Christians become no more than a religious subculture– salt without saltiness. Take away cultural relevancy and Christians become isolationists with no impact on the world– lights hidden under bushels. We believe in looking at the world clearly and openly with the Bible firmly in hand.
Progeny Press has over 100 study guides for literature, covering kindergarten through high school. Progeny Press study guides concentrate on critical thinking, comprehension, literary analysis, and Christian application. Our goal is to teach our children to think clearly, to understand literature, and to rely on scripture for truth and values, and enjoy themselves while they do it!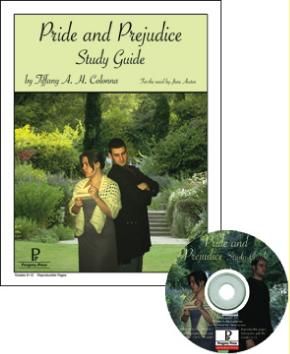 There are over 100 Study Guides available in four different levels – lower elementary, upper elementary, middle school, and high school.  The guides are available as a print version, on cd in PDF format, or in PDF format sent by email. The prices range for $10.99 to $27.99 for the guides. The Pride & Prejudice PDF that I received by email sells for $18.99. The other options are booklet for $21.99, or CD for $18.99. You can also buy a set of the booklet and CD for $27.99.
I really love that the PDF is interactive. The student can fill out the answers right in the PDF. Then each student saves their file under their own name. Their answers are saved, while the original is intact. As a mom of 6, I appreciate the fact that I can use one Study Guide for all my students. You can also print out the PDF for the student to actually write on. I opted to print the PDF out for my 11th grade daughter. She prefers her books and schoolwork in paper form. It printed out great, with no problems. The cover art printed out very nice, also. For some of my other kids, the interactive PDF would be perfect. It is so nice to have these different options from one product. Perfect for families or group settings.
The interactive PDF does not correct the students work. You will still have to correct the answers that are mostly essay style. You can grade their work right on the computer and leave comments and notes within the file. All the titles for grades 4-12 are interactive in both CD and email PDF format. The titles in the Lower Elementary section are not interactive.
Progeny Press recommends taking 8-12 weeks to complete a study guide. Of course, you set your own pace with these guides.
Because the Study Guide has mostly essay style questions as opposed to questions on a worksheet, your student can dig deeper into the story. Learning comprehension, analysis, and critical thinking. The student will also learn scriptural principles, literary terms, and vocabulary. A complete answer key is also included.
I love books and I have tried to instill a love of books to my children. I also want to instill in my children a love for God and to rely on Scriptures for truth and values.I love that these Progeny Press Literature Study Guides really help the student to delve into the story and understand it better than just reading the book by itself. The Study Guides examine the books from a Christian perspective. So not only is the student reading great literature, but they are also learning Biblical truths at the same time. I wish I had had these study guides when I was a student! I glad they are available for my kids now.
You can view a Pride and Prejudice sample , as well as an interactive sample.   See the Progeny Press online catalog for more information.
See what other The Old Schoolhouse Homeschool Crew Members are saying about The Art of Argument.

*Disclosure of Material Connection: I received a copy of the PDF Study Guide  in the hope that I would mention it on my blog. Regardless, I only recommend products or services I use personally and believe will be good for my readers. I am disclosing this in accordance with the Federal Trade Commission's 16 CFR, Part 255: "Guides Concerning the Use of Endorsements and Testimonials in Advertising."
Please follow and like us: