For the past few weeks I've been using 
Logic of English
Essentials 2nd Edition with my 9th grade son. I received the Essentials homeschool curriculum complete set, which sells for $198 on the website, to review.
The Logic of English homeschool reading and spelling curriculum uses a common sense, multi-sensory approach to learning. The Logic of English basis their method on the 74 basic phonograms and 31 spelling rules that together explain 98% of English words. The Logic of English approach doesn't use any sight words, it teaches students why words are read and spelled the way they are.

The Logic of English has curriculum for all ages. From students just learning to read, struggling readers, poor spellers, and those students needing remedial help, all the way to adult learners.
Essentials, a multi level reading, spelling, grammar and vocabulary curriculum, is recommended for ages 8 – adult. It is a complete spelling, grammar, and vocabulary curriculum for grades 2-6.
Logic of English Essentials Homeschool Curriculum Review
The Essentials Volume 1 Complete Set includes all the components of Essentials needed to teach the first semester of the curriculum.
Essentials Teacher's Guide, 2nd ed., Volume 1
Essentials Student Workbook, 2nd ed., Volume 1
Spelling Journal
Basic Phonogram Flash Cards
Spelling Rule Flash Cards
Advanced Phonogram Flash Cards
Grammar Flash Cards
Morpheme Flash Cards, Set 1
1 deck of Bookface Phonogram Game Cards
1 deck of either Cursive or Manuscript Phonogram Game Cards (choose Cursive or Manuscript in the dropdown menu above)
Phonogram Game Tiles
Phonogram and Spelling Rule Quick Reference
Spelling Analysis Card
The Student Workbook and the Spelling Journal are consumable. You will have to buy one of each of them for each student. When the student is ready for the second semester, you will only need to add the Volume 2 Teacher's Guide, Workbook, and Morpheme Cards.
There is a lot included in the complete set. Don't let that intimidate you, though. The Teacher's Guide, with over 600 pages, lays it all out for you. Telling you what you need to do when. I have to admit that I was a little overwhelmed by all the flash cards. The Teacher's Guide takes care of that, though. It tells you what cards to use and when to use them.
There is a section in the Teacher's Guide on how to create your schedule. There are 15 lessons included in Essentials 1. Each lesson is divided into 5 days. Each days lesson will take approximately 30-45 minutes. Depending on the age of the student and what level they are at, you may need to spend more, or less, time on each lesson.
There is little to no teacher prep involved before each lesson. If you keep all the books and flash cards together, you will have everything you need. You read through the lesson in the Teacher's Guide as you go. It tells you what to say and when to say it.
I've used the term multi level a couple of times. The curriculum includes 3 different levels. Parts of each lesson are labeled "All", "A", "B", "C". These labels tell the teacher which concepts are taught to "All" the students, or students on each of the 3 levels. There is a placement test that tells you which level to start your student on. Then the lessons can be adjusted as your student grows and learns. For example, your student may go from level A to level B. If you have students on different levels, you can still teach them together for the "All" work, then they can work separately on whatever level they are one. This makes it great for homeschoolers that have more than one student. There are plenty of teacher tips throughout the book, helping you to ensure that your student gets the most out of the curriculum.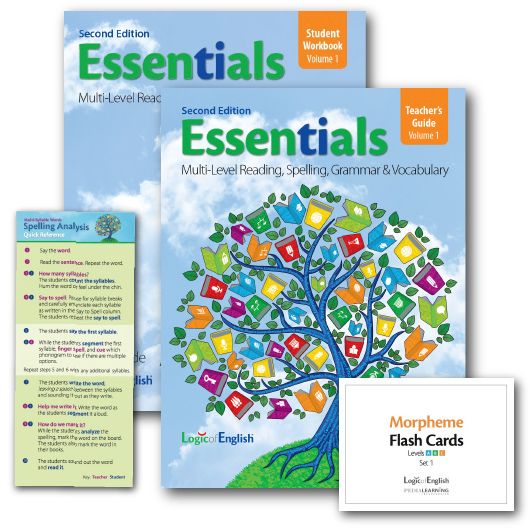 The Spelling Journal is a student created reference. It has a sound to spelling reference, a phonogram table, and spelling rules in the front. Those are followed by pages for the student to write their spelling words. These pages are organized by sound, not alphabetically.
The Student Workbook has over 300 pages. It contains activities to reinforce the lessons. There are different pages for each level. They are clearly labeled A, B, or C. Some pages are to be done by all levels, and these are not marked. The Teacher's Guide tells you what page in the workbook to do when.
The Logic of English Essentials 1 is a thorough, teacher intensive multi level reading, spelling, grammar and vocabulary curriculum. It requires the teacher to be hands on through out the lesson. My 9th grade son did not like that, as he prefers to work independently. The intense teacher involvement works great for beginning readers, those needing remedial help, and adult learners.
To see what others had to say about Essentials, as well as reviews of other Logic of English curriculum, click the graphic below.


Please follow and like us: