As part of The Old Schoolhouse Homeschool Crew, I was given a free download of CapJaxMathFax to use with my children. I used it with my 11 year old son.

From the CapJaxMathFax website:
"Put a little happy in your math"
Sure, there are a ton of math games and all sorts of versions of electronic flashcards. But which of them, if any, offers a systematic program that takes the student from beginning to mastery? For all four operations? Which of them automatically determines levels and objectives for student practice and then leads the learner to success, working independently at his or her own pace? And which of them allows parents and teachers to observe and monitor student progress?
There's more. While assurance of success is essential, it's not the only criterion that counts. The student must also feel good about the process. That means the program has to provide a balance between challenge and success, pressure and achievement, and a good system of evaluation and feedback.
CapJaxMathFax provides all these things, not by accident, but through careful application of the principles that govern how people learn.
CapJaxMathFax works with the comprehensive math curriculum that you normally use to help the kids memorize math facts. CapJax makes math fun!  CapJax has a pdf flyer that has a lot of information in it. If your child needs extra motivation to memorize math facts, there are Merit Badges available for purchase. These Merit Badges work with CapJaxMathFax. You order the Merit Badges ahead of time, and when your child earns one in the program, you have one to award to the child. You could sew these onto a shirt or a hat, or mount them in a frame on the wall.  There are four badges available, and they are $4 for all 4. That's a great deal.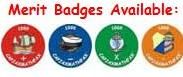 Here is a screen shot from CapJaxMathFax: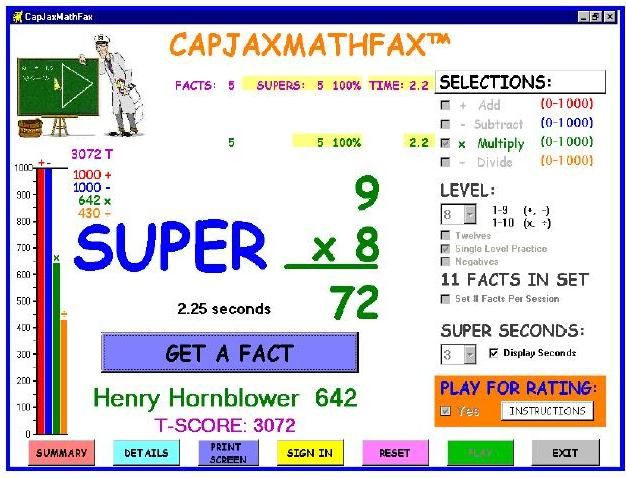 As you can see, the student can pick what to work on each day. There is a summary on the left so they can see their progress. I liked that there is a "Keyboard Practice" that the child can use before starting the program that will help them learn to enter the numbers quickly. Using the keyboard quickly will help them get the most out of the program.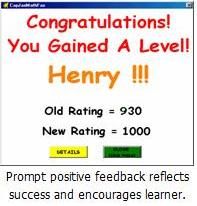 My son, Zach, said that CapJaxMathFax was different from the other math programs we've tried. He liked that he could earn points quickly so he could go up levels quickly.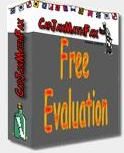 CapJaxMathFax is available on the website beginning at $29.95 for the downloadable product. A cd version is also available for $35.90. There is a free evaluation available that demonstrates the full program.
See what other The Old Schoolhouse Homeschool Crew Members are saying about CapJaxMathFax.

*Disclosure of Material Connection: I received a free download of CapJaxMathFax in the hope that I would mention it on my blog. Regardless, I only recommend products or services I use personally and believe will be good for my readers. My opinions are my own. I am disclosing this in accordance with the Federal Trade Commission's 16 CFR, Part 255: "Guides Concerning the Use of Endorsements and Testimonials in Advertising."
Please follow and like us: