As part of the the Schoolhouse Review Crew, I recently received the audio CD Under Drake's Flag from Heirloom Audio Productions to review. This 2 CD set sells for $29.95, and is adapted from the book, Under Drake's Flag, by G.A. Henty. Under Drake's Flag was recorded in London, England with a cast of British actors. You can listen to a 60 second audio summary of the story on the Heirloom Audio Productions website.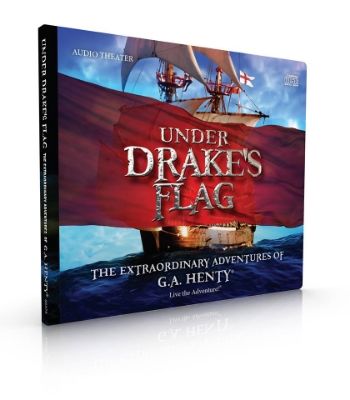 Under Drake's Flag Audio CD Review
Under Drake's Flag reveals the true history of a forgotten hero, Sir Francis Drake, while teaching moral values like character, courage, and conviction.
Ned Hawkshaw is about to take the greatest adventure a boy could ever imagine…with one of the most celebrated heroes in history—Sir Francis Drake! Ned fights off a shark attack, survives a shipwreck, engages in fierce battles on sea and land, and comes face to face with the Spanish Inquisition. Experience the swashbuckling tale that pits faith against fear, and helps Ned grow from a boy into a man.
Under Drakes Flag is not like any audio book  you've heard before. Under Drakes Flag is audio theater. It is fast moving and very exciting. The quality of the sound is amazing. The voice actors did an incredible job portraying their characters. If you close your eyes while listening to Under Drakes Flag, you will think you are in the theater watching a movie. Your kids definitely won't be bored while listening to Under Drakes Flag. And neither will you! I listened to Under Drakes Flag with my 14 year old son and my 15 year old daughter. We all enjoyed it together.
Here is the Under Drake's Flag Trailer
Under Drake's Flag is great listening for all families, and perfect for homeschool families. There is a Study Guide included in the cd set. There is a How to Use This Study Guide section in the front to help you get started.
The Study Guide  contains 19 lessons. Each lesson is divided into three sections.
Listening Well – contains 2-5 comprehension questions to be answered after listening to the cd.
Thinking Further – contains questions that ask the student what they think about something, or what they would do in a certain situation. These questions prompt the student to apply what they heard in the story.
Defining Words – one to three vocabulary words for the student to look up and learn.
There are also three Bible Studies included in the Study Guide. The Study Guide can be used orally with the whole family, or you can have your student do them independently and write their answers on paper.
Here's a television clip of the making of the of Under Drake's Flag, and a review by Glenn Beck.
This 2 hour long Under Drake's Flag cd set, recommended for ages 6-adult, is an exciting adventure that the whole family can listen to together. Under Drake's Flag is perfect for listening while sitting around the living room, or listening while driving on a long car trip. It's not just an audio book, it's audio theater!
Don't just take my word for it, stop by to see what other Schoolhouse Review Crew members have to say!


Please follow and like us: