As part of The Old Homeschool Homeschool Crew, I received the Earth Book from AIMS Education Foundation to try with my kids. I had never used anything from AIMS before, and I was impressed with this book.
The Earth Book states that it's for grades 6-9. I've been using it with my 5th and 7th graders. It has worked well for both of them. I do, however, have to spend more time helping the 5th grader by reading out loud most of the pages. He doesn't mind, though, as he likes me to read all his work out loud. I think they do have the grade range right. Although, if you wanted to do earth science with your 10th or 11th grader, I don't think it would be beneath them. In fact, I wanted to include my two 11th graders in our work with this book, but both of them already have full schedules.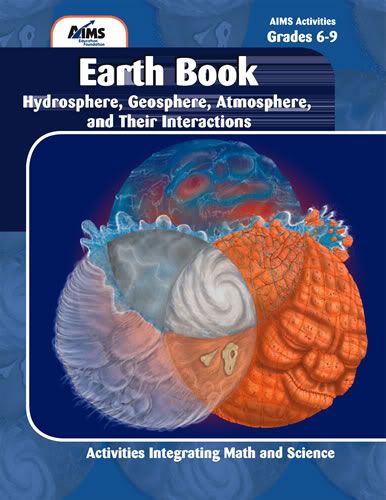 The lessons are in depth, and varied, there's always something new to do so the student doesn't get bored. There are questions to answer, maps to fill out, activities & experiments, rubber band books to make and much more. You can see a 30 page preview of the book HERE. With 48 activities included in the 466 page book, I think The Earth Book is worth the $49.95 price. This includes permission to copy each page up to 200 times. That makes it an excellent book for large families or even to use in homeschool groups and co-ops.
What really has sold me on AIMS books, though, are the cd roms that come with some of them. The Earth Book is one of those that comes with a cd. The beauty of the cd is all the pages in the book are all on there. No more breaking the binding on a book to make a copy, or trying to hold the printer cover down over a thick book. Just put the cd in your computer, find the pages you want to print and print away. Such a time and sanity saver! I wish more publishers would add this feature.
The only thing I didn't like about The Earth Book, is they didn't have answer keys for all the questions. They do give some, but not all.  While that is a drawback, it is still an excellent book.
This is not a Christian based science book, therefore it offers plenty of opportunities for discussion. We started with the geosphere section, so we discussed the age of the earth, as well as what scientists really know and what they speculate on. We are going to continue with the book for the rest of the school year since the kids and I all like it.
The AIMS Education Foundation catalog has a huge selection of hands on math and science for grades k-9. You can visit their website, aimsedu.org, also to see what they offer. They have math manipulatives and science equipment, including lab packages. I see several books and supplies we need, and the kids would love. 🙂
To see more The Old Schoolhouse Homeschool Crew reviews of AIMS Education Foundation products, visit the crew review list.

*Disclosure of Material Connection: I received one or more of the products or services
mentioned above for free in the hope that I would mention it on my blog. Regardless, I
only recommend products or services I use personally and believe will be good for my readers.
I am disclosing this in accordance with the Federal Trade Commission's 16 CFR, Part 255:
"Guides Concerning the Use of Endorsements and Testimonials in Advertising."
Please follow and like us: