As part of The Old Schoolhouse Homeschool Crew, I received an Amazing Science DVD to review.

From the Amazing Science website:
Here at ScienceAndMath.com, we believe that Math is a
tool to explore our world.  We also believe that all
people, young or old, are fascinated by Science.
Our aim is to bring you the very best Science and Math
videos to tickle your curiousity and entice you to want to
learn more about the world around you!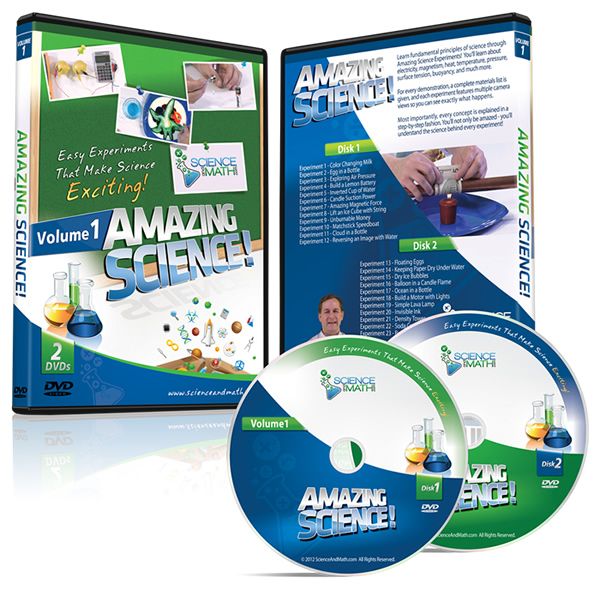 Amazing Science Volume 1 offers 23 experiments on 2 DVDs.  Some of the experiments included are: Egg in a Bottle, Inverted Cup of Water, Lift an ice Cube with String, Unburnable Money, Floating Eggs,  Ocean in a Bottle, and Invisible Ink.
We tried several experiments on the DVDs. I found them to be very informative and fun. The host doesn't just tell the kids what to do. He shows them. While at the same time giving them all the science behind the experiments. He's very likeable and held the kids interest.
Here are some pictures of some of the experiments we tried. In Reversing an Image with Water, we did just that using a glass of water. On the left, you can see my sons drawing of arrows.  And the same drawing looking through the glass of water. See how the arrows are pointing in the other direction?
We also tried Keeping Paper Dry Under Water. You guessed it, we kept paper dry under water! He also shows several other things for the kids to try with the glass and the water. Abby and Zach really had fun with this one. Just make sure you have towels handy! lol
This next experiment involved candles and balloons. And popping the balloons. Which Zachary found to be great fun. lol See how he set the balloon right on the flame and put the flame out without popping the balloon? Here's the secret: You put a little water in the balloon before holding it closed with a paper clip. The water takes the heat away from the balloon and it doesn't pop.
Here's a video showing what happened when Zach put a balloon with no water up to the flame.

The kids had great fun doing the experiments on this DVD set. Not only did they have fun, they learned a lot. They repeatedly ask to do more experiments, also. In fact just a little while ago Zach was watching me put the pictures in this post and asked if we could get more DVD sets. And that's the greatest review a product can get. Kids having fun, learning and asking for more!
Amazing Science Volume 1 DVD set sells for $19.95 on the Amazing Science website. It is also available as an instant download for $17.95
See what other The Old Schoolhouse Homeschool Crew Members are saying about Amazing Science.

*Disclosure of Material Connection: I received a free DVD in the hope that I would mention it on my blog. Regardless, I only recommend products or services I use personally and believe will be good for my readers. My opinions are my own. I am disclosing this in accordance with the Federal Trade Commission's 16 CFR, Part 255: "Guides Concerning the Use of Endorsements and Testimonials in Advertising."
Please follow and like us: