As part of The Schoolhouse Review Crew, I received Geography I from Memoria Press to review.
Disclosure: I received no other compensation for this review. My opinions are my own.
Memoria Press is a family run publishing company that has been producing classical education materials since 1994. I had never used anything from Memoria Press before, so I was excited to try this Geography 1 course.


Geography 1 is written for grades 4th thru 8th. Included in the set are:
Geography I Text
Geography I Workbook
Geography I Teacher Guide
United States Review Student
United States Review Key, Quizes, and Tests
You can see samples of the Table of Contents, a text sample, and a workbook sample on the website. Geography 1 covers the Middle East, North Africa, and Europe, the area that constituted the ancient Roman Empire. Each country has a two page spread. The reading text and country information on the left, with a "History Headlines" section, and a "Tour of Today" section. A large map takes up the whole page on the right. In the Student Workbook, each country has one page with questions & fill in the blank answers on the top, and a map on the lower half of the page. There are also review pages through out the student workbook.
This Geography 1 set also includes The United States review books. These books don't contain any lessons, just lists of info, maps to fill out, and questions to answer. What you would expect in a review book. It is very thorough, though, and can be used before or after the Geography 1 books.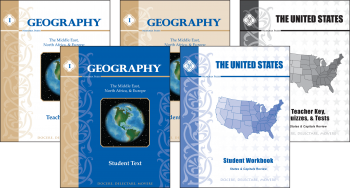 Memoria Press Geography 1 Review
I used Geography 1 with my 12 year old son that is going into the 7th grade.  He used both books at the same time, usually on the same days. Zach averaged 4 days a week with both books. He really loved these books, and would often do more than the one lesson a day that I required of him. On his own. Without my asking him to. Many days, he would go back later in the afternoon and get the books out again to do some more. I lost track of how many times he called out, "Mom! Did you know….?"  or "This says……I didn't know that!"   He only has one page left to do in The United States Book, States and Capitals, which is 25 pages long. He is over halfway through the Geography 1 book, he has completed page 50 of the 90 back student workbook. He really liked the way the information was presented in this course, and if he continues to do well with the rest of the book like I think he will, I will get him the Geography 2 course next. We have other geography resources here, but he has done so well with this first book, I think he will benefit greatly from doing Geography 2.
In the above picture, you can see a page from the Geography 1 Student Workbook on the left, and a page from The United States Student Workbook on the right. Both of these are a fair representation of what the rest of each book is like.
The Geography 1 set sells for $48 on the website at the time of this review. Books may also be purchased individually. Great if you are using this with more than one student & need extra books because these student workbooks are consumable with no permission to copy for family use.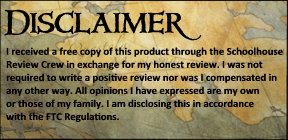 Please follow and like us: