As part of the Schoolhouse Review Crew, I received PreScripts Cursive Passages and Illuminations from Classical Conversations to review.
Classical Conversations says on their website that  The purpose of education is to know God and to make Him known. I couldn't agree more! Classical Conversations helps parents provide a classical education for their children. They recently introduced PreScripts. A new handwriting line for ages three through high school.

PreScripts Cursive Passages and Illuminations, that I received, is for ages nine through high school. Students practice with passages of writing taken from American documents and speeches. Passages and Illuminations is for students that have mastered cursive writing. There are no instructions for writing cursive, just the passage for the student to copy.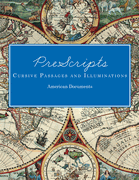 The practice of writing with illuminations comes from medieval manuscripts. You've probably seen illuminations in books before. They really dress up the printed page. Illuminations make students handwriting samples a work of art. Perfect for hanging on the wall, or giving to family and friends.
The picture below is from the book. As you can tell, it is a spiral bound book that lays flat while the student is working. All of the pages have the writing sample on the left, with a large illumination and space for the student to draw their own illumination on the right hand page.
I used Passages and Illuminations with my 14 year old daughter that just finished 8th grade. She averaged 3-4 lessons a week, completing 15 during the review period. You can see one of her practice sheets below with her illuminations. I also started my 12 year old son using the book. He has not mastered all the cursive letters yet, so was becoming very frustrated with the writings. So I pulled him off the book, and we'll revisit it when he masters those letters.
With this book, the parent decides the pace of the book. A half a page a day for a younger student, or up to two to four a day for more experienced, older students. If you do one page a day, four to five pages a week, there are enough pages for a complete school year. There are also recommendations in the book for the number of pages to do if you are involved in a Classical Conversations community.
I had her use some handwriting paper that I had to practice the lessons on. This paper with a small rule, not kindergarten paper with wide lines. You can see she practiced the illuminations on these sheets, too. I liked all of the passages in the book. They include samples from Christopher Columbus "Appologia", Patrick Henry, the Mayflower Compact, The Missouri Compromise, Abraham Lincoln, Ronald Reagan, and many more. You can view sample pages on the website. These passages from important historical documents give meaning to hand writing practice.
PreScripts Cursive Passages and Illuminations sells for $12.99 (at the time of this review) on the Classical Conversations website. PreScripts can be used as a consumable or non-consumable. The copyright gives permission to make copies for use in your family. Making this a perfect course for families with multiple children.


Please follow and like us: