As part of the Schoolhouse Review Crew, I received access to Rosie's Doll Clothes Patterns Learn How to Make Doll Clothes Video Course.  The video course includes over 130 videos, over eight hours of video, and eight free printable patterns. The video course is accessible online, as well as available on dvd. The doll clothes made from these patterns will fit 18 inch dolls.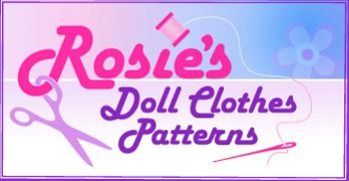 The videos walk the sewing student through the entire process of making doll clothes. No prior sewing knowledge necessary! Even elementary aged girls can can take this course and learn how to make their own doll clothes. (or boys! Boys can sew, too! lol And give the doll clothes as gifts) The course is recommend for ages 8 and up.  I had my 17 year old daughter Hannah take this video course.
The best part of taking this course is that the sewing student can work at their own pace. With the online course, you have access for a year. Plenty of time for even the beginning seamstress to master all the techniques and make all the clothes offered.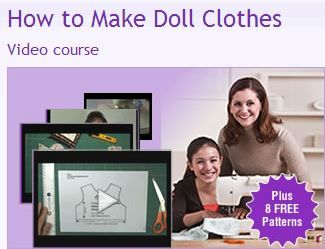 From Hannah: The videos were very informative. They are good for anyone. They cover everything that you need to know.  It's good for beginners. I think it's better to watch all the videos first before starting to sew. Then you can go back and watch them if you need to while sewing. The patterns are very simple to use. The instructions are clear. The clothes would make good gifts. I would recommend this video sewing course to everyone.
I agree with Hannah! I didn't watch all the videos like she did, but I watched enough to know the quality. When I printed the patterns the first time, the scale was off. So I went back and watched the video about printing the patterns. The video walked me through changing the settings for my printer. It even showed what the screens would like like for several different printers.
The patterns and the instructions are downloaded from the website as PDF files. I saved them to my computer's desktop in a Rosie's Doll Clothes file. After printing the patterns, instead of printing the instructions, I sent the PDF's to my Kindle. This made it super easy for Hannah to take the instructions with her to the sewing machine. Totally not necessary, but very convenient if you have a Kindle. Otherwise, just print the instructions if your sewing machine isn't near your computer.
There are many, many sewing tips and techniques included in the videos that can later be applied to other sewing projects. Even those that have been sewing for a while will find lots of tips to use for making doll clothes. None of these projects take a lot of fabric. They can even be made from the fabric scraps after you sew something for your daughter. Girls love it when their dolls have matching clothes.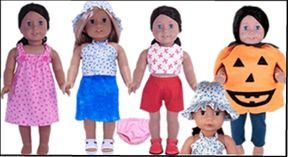 The eight free patterns included are Sport Shorts, Crop Top, Sarong, Halter Top, Summer Nightie, Hat, Pumpkin, Underpants.
And here's what Hannah made. She made the nightie, the shorts, crop top, and the sarong. The nightie can double as a sun dress. All the clothes came out awesome and really fit Samantha great.
I think Samantha likes her new clothes. I know she was very well behaved during her photo session, and smiled in every picture!  🙂
I would recommend Rosie's Doll Clothes Patterns Video Course for all moms and daughters. It really is a great learning tool for all ages.
There are two online options available for purchasing Rosie's Doll Clothes Patterns Video Course, both sell for $47.51. There is also a DVD option that sells for $66.53. Please check the website for up to date prices and options.


Please follow and like us: