As part of The Old Schoolhouse Magazine's Homeschool Crew, I was sent a deck of Fractazmic cards from I See Cards.

From the Fractazmic website:
When children play Fractazmic, they know they're having fun, and you know that they're
learning!
When children play Fractazmic, they know they're having fun, and you know that they're learning! Fractazmic is a comprehensive interactive fun lesson in fractions that gives your child unlimited practice at their individual level.
Each brightly colored card displays fractions, along with eye catching graphics, to ensure reinforcement. Players will quickly identify the fractions on their cards and calculate their way to fun and learning! Fractazmic teaches fractions, numbers and measurement.
Ensure the mathematical success of your children with Fractazmic!
Fractazmic Decks Include:
60 Math Learning Cards
Each card clearly numbered
Each card clearly labeled with the fraction and reinforcing graphic.
What makes Fractazmic Decks Special:
Quickly learn to convert and add fractions.
Reinforces relationship between fractions and measurements.
Shows real world use of fractions.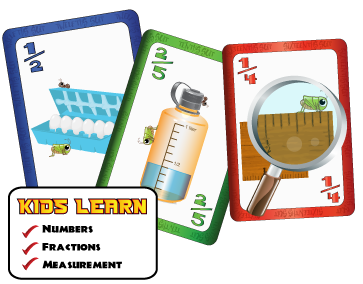 A single deck of Fractazmic Cards sells for $6.95 on the I See Cards website. Excellent for the homeschool. You can also buy the cards in a 5 deck or 10 deck package. Great for homeschool groups or schools. While aimed at 1st-8th graders, Fractazmic is for for the whole family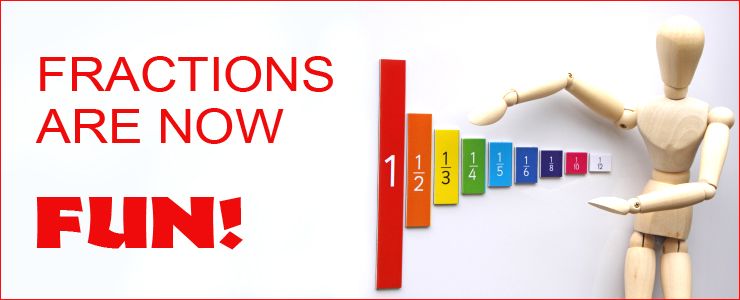 It is very easy to learn how to play Fractazmic. The goal is to make more hands then your opponents. A hand is cards in a suit that equal one. The deck is divided into 3 suits, Red – Sixteenths, Blue – Twelfths, Green – Tenths. On my turn, I would either draw a card from the pile or pick up cards in the discard pile. Then I would put down any "hands" that I have, for example – I would put down the blue cards 1/12, 1/6, 1/4 and 1/2 down as they equal one. I would finish my turn by discarding one card.
The game is over when someone runs out of cards. Then everyone adds up their hands, the winner being the player with the most hands. Just like in other card games, sometimes the game is over after only a couple of turns and sometimes it lasts much longer.
As you can see in the picture above, the cards are clearly labeled with color, the fraction, and the measurement on a ruler.  Kids can use the visual of the ruler to add fractions up to one. This is a very helpful feature of the cards. It makes the different fractions easier to add up.
You can also play Fractazmic online. It's fast thinking, great fun. You only have 2 minutes to complete as many hands as possible. Yes, I have played it a few times.  Go ahead. Try it. It's fun.   🙂
I played this card game with my 11 and 13 year olds. One thought it was  an ok game, but they disliked the fraction part. lol Yes, that kid hates fractions. The other one said it was fun and likes to play. In fact, he asks me to play it. Two different kids, two different opinions.
I think it's a great card game to help the kids learn fractions. No, you can't learn fractions just from playing this game. It does a great job, however, of reinforcing what the kids are learning in their regular math class.
For more information about Fractazmic, visit I See Cards. You can also download a booklet with helps for the games and math helps. To see the games played, watch these videos: How to Play Fractazmic Rummy and How to Play Trap.
See what other The Old Schoolhouse Homeschool Crew Members are saying about Fractazmic.

*Disclosure of Material Connection: I received one or more of the products or services
mentioned above for free in the hope that I would mention it on my blog. Regardless, I
only recommend products or services I use personally and believe will be good for my readers.
I am disclosing this in accordance with the Federal Trade Commission's 16 CFR, Part 255:
"Guides Concerning the Use of Endorsements and Testimonials in Advertising."
Please follow and like us: