As part of The Old Schoolhouse Homeschool Crew, I received a Heritage History Ancient Rome CD to review.
From the Heritage History Website:
Our library contains hundreds of entertaining and easily-read history books which were written for students and non-specialists many years ago. Likewise, all the illustrations, maps, and other history-related material on our site were taken from traditional history books and student atlases that are no longer copyright protected and are available to republish without cost.
The mission of Heritage History is to make old-fashioned history books, written for the enjoyment of young people, easily available. The complete text of every book in our library can be read directly off the website, and both printable and e-Reader formats are available at the Heritage Store.
We developed the Heritage website with the intention of helping to repopularize old-fashioned narrative history. We believe that the current trend of teaching Social Studies rather than history to young people is unfortunate, not so much because it is politicized, but because it is boring. Too many students leave school with a vague disinterest in history because it was never presented in an engaging manner.
At Heritage History, we seek to promote, not so much the study of history as theenjoyment of History. By making available old-fashioned history, as it was enjoyed as a pastimerather than studied as a subject, we hope to help reawaken the interest of a new generation.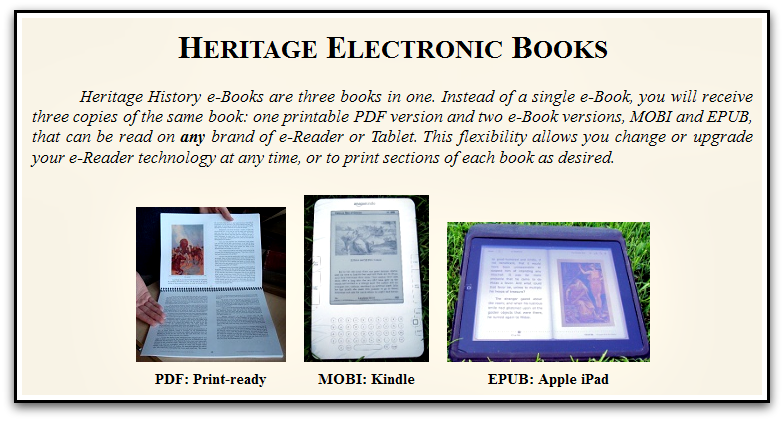 I don't recall ever hearing about Heritage History before, but I sure am glad I know about it now! They have five history curriculum choices available. Young Readers, Ancient Greece, Ancient Rome, Middle Ages, and British Empire. Heritage History is a reading based curriculum that uses "living books"  and includes biographies, legends, hero stories, and historical literature as well as comprehensive histories.
Everything, as in the entire curriculum, is available for viewing on the website. For free. All the books, there are thousands of Maps and Illustrations available on the Heritage History website. Also available is a Characters List and a Battle Dictionary with over 2,000 battles listed.
You can also purchase the curriculum on CD. I really loved the convenience of having the CD. If you use the CD, you don't have to be on the internet to access the books. As you can see from the graphic above, all the books on the CD come in 3 different formats. You can easily put the books you want your students to use on the ereader of your choice. Since all the books included are no longer copyrighted, but public domain, you can print any part or all of the books that you want. This makes it so easy to use the same curriculum for all your students, in the format that works best for your students.
I think Heritage History is a perfect curriculum for families with students in different grades. All students can study the same history at the same time, using books at their own levels.
Since it is a reading based curriculum, there are no lesson plans or tests. You choose the books you want your student to read and the pace you want. All of the books are rated as one of three reading levels, grammar school, middle school, and high school. If you want to test, you can easily make your own tests using the information in the Study Guide.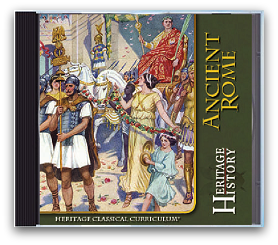 The Curriculum User Guide, shown below, is printable, or you can read it on your computer. It has guidelines to help you use this curriculum with your students. It covers topics such as determining reading level, how to prepare to use this curriculum and scheduling. There are also sections on how to review so you know your student is retaining information and how to combine Heritage History curriculum with other history curriculums.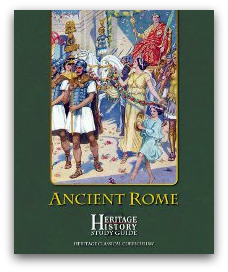 The Ancient Rome CD includes stories for students of all ages, from legends of early Roman heroes for younger students, to stories of political turmoil in the imperial era that provide food for thought to older students. Stories from Gothic, Carthaginian, and Byzantine history are also included. The CD, selling for $24.95, includes 45 books, over 60 maps, teaching aids, and a Study Guide.

See what other The Old Schoolhouse Homeschool Crew Members are saying about Heritage History.

*Disclosure of Material Connection: I received a CD in the hope that I would mention it on my blog. Regardless, I only recommend products or services I use personally and believe will be good for my readers. My opinions are my own. I am disclosing this in accordance with the Federal Trade Commission's 16 CFR, Part 255: "Guides Concerning the Use of Endorsements and Testimonials in Advertising."
Please follow and like us: