As part of The Schoolhouse Review Crew, I received King Alfred's English by Laurie J. White to review.
Do you remember the first time you looked under the hood of a car or popped off the back of an electric toy to see the inner workings? Well, most of us go through our entire life speaking a highly complex and organized set of sounds we call language without ever getting a glimpse under its hood.
So come have a look at some of the hidden springs and gears that have steered and energized English over the centuries. King Alfred's English provides a guided tour of forces and events, conquerors and writers that have shaped, simplified, matured and expanded English into what it is today—the first truly global language in history.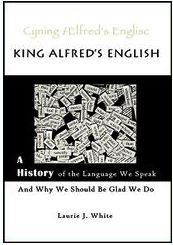 The capstone of the book is the story of how we got the Bible in English and it's influence upon our language.

What were the driving ideas behind the Reformation?
Are the New Testament documents really reliable and how do they compare to other ancient manuscripts?
Why was translating the Bible into English punishable by death?
…and what does all THAT have to do with the history of English?
I read this book myself for the review. I found this book fascinating. It is full of history about the English language as well as Biblical history that I never learned in school, or since.  Chapter One of King Alfred's English is available to read online.
Did you know?

The English were NOT the British. In fact, they fought each other…a lot. And still today, if you call an English person British, he might very well correct you even though he knows you probably won't understand.
You probably don't pronounce the word "when" like your parents. When you say "when" and "win," do these words sound the same? If you're under 50, they probably do. If you're older, you may still pronounce the sound of the "h" and the words sound slightly different. I still pronounce the "h," do you?
The Brothers Grimm compiled German fairy tales, but they were also famous philologists (and what IS a philologist?)
There's a law for the way languages change that backs up Intelligent Design.
For over 300 years the official language of the English court was…French! Seriously. But the English were always fighting the French. That's true. Find out why.
There's a reason we write "knight" but say "nite," and you won't believe how they used to pronounce it.
It was once punishable by death to translate even portions of the Bible into English! Yikes!
Recent scholarship has shown that at least 80% of the King James Bible is the translation work of just one man. Who was he?
There are free supplemental material for Students and Teachers available at The Shorter Word website. Resources include suggested readings and links, links to articles, images, and videos that expand the topics in each chapter, chapter worksheets, unit tests and writing activities. There is even a list of suggested movies. Make sure you check the ratings to make sure they are appropriate for your students.
Using the suggested minimum requirements, the book and free supplemental material she provides, a student can earn 1/2 credit high school history course, or a combined 1/4 credit history and 1/4 credit English course.  Resources include suggested readings and links, worksheets, tests and writing activities. King Alfred's English is recommended for ages 12 through adult.
Now that I have read the book myself, I plan on using it with my high school students. My 11th and 12th graders will be starting it shortly.
King Alfred's English: A History of the Language We Speak and Why We Should Be Glad We Do
retails for $16.95 and is available on Amazon in soft cover or Kindle version
for $5.95.

*Disclosure of Material Connection: I received an ebook  in the hope that I would mention it on my blog. Regardless, I only recommend products or services I use personally and believe will be good for my readers. My opinions are my own. I am disclosing this in accordance with the Federal Trade Commission's 16 CFR, Part 255: "Guides Concerning the Use of Endorsements and Testimonials in Advertising."
*This post contains an affiliate link. If you click the link and purchase something, I will receive a small commission
Please follow and like us: