*This post contains affiliate links.
I have used SchoolhouseTeachers.com for a few years now. They offer close to 200 different classes, as well as extras and printables with the SchoolhouseTeachers.com Yearly Membership. I love how easy to use the website is, and the variety of online classes available for for all ages, including adults. The printable homeschool planners available are some of the best I have seen in my 25 years of homeschooling.
For new members, the best place to start on the site is the New Members Hub. From there, you can check out Courses by Grade or Courses by Subject to choose what classes you want your students to take.  With almost 200 different classes, there is something for every member of the family.
Art
Bible
Computer and Technology
Drama and Speech
Electives
Foreign Languages
History, Geography, and Social Studies
Language Arts
Math
Music
Nutrition, Health, and Fitness
Science
Just for Parents or the Whole Family

You can watch an Introduction to SchoolhouseTeachers.com video that is very helpful in seeing all that is offered.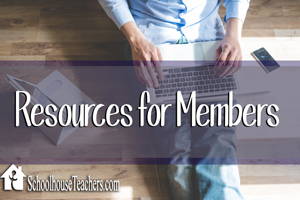 Members of SchoolhouseTeachers.com also receive many extras included in the membership:
Digital back issues of The Old Schoolhouse® Magazine
All 5 of the popular Schoolhouse Planners,
Recordings of the Schoolhouse Expos,
Free monthly eBooks and TOS supplements,
Membership to Applecore, an online homeschool tracking software
And more!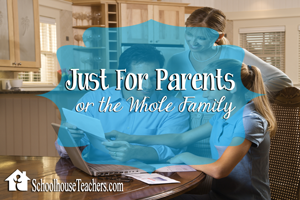 Here are a few of the offerings Just for Parents or the Whole Family:
Be Prepared
Charlotte Mason Homeschooling
College Choice Guidance
ESL Language Arts
ESL Vocabulary
Everyday Organization
Family Fitness
Family Nutrition
Growing in Homeschool Confidence
Hands-On Math Help with Cuisenaire Rods
Heritage Crafts
Homegrown Parenting
Homeschooling That's Relational
Homesteading
How to Teach Elementary Math
It Starts At Home
Joy in the Morning
Kinetic Connections
Nourishing Nuggets
Parenting: The Early Years
Parenting Tips with Dr. Scott Turansky
Reading Remedies (Reading Lessons for Young or Struggling Readers)
Reading List (Monthly Book Lists for Families)
Special Needs
Special Needs Trenches
Tips for Homeschooling Active Learners
Whole Foods Cooking with Sue Gregg
Writing: Mechanics
Your Child's Learning Style
There are hours and hours of reading & invaluable resources available for parents to help you in your homeschooling journey.
I have used some of the high school courses available with my students. For this review, my 9th grade son chose to use the Web Game Design course. The Web Game Design course teaches students how to create some simple games in their web browser. Students will learn to write code directly into the web browser to make things happen. With the Web Game Design course students will learn to use input fields, images & sound effects, 2D frame animation, how to start a JavaScript game, & more.
He is several lessons in and liking it. We have used core subjects before, and I will be adding some more in for my son this semester, but I let him pick which course to take first. This Web Game Design class includes 42 weekly lessons, and is generally expected to take 1-2 hours per week to complete. Students who complete the entire year should be comfortable receiving 0.5 computer science credit on a transcript. I really love that most of the high school courses tell you how many credits your student will earn by completing the course.
I, myself, have used the ASL course in the past, but haven't completed it. I will be starting again. And finishing! I truly love everything about SchoolhouseTeachers.com!
Interested in trying SchoolhouseTeachers.com?
You can join monthly for $12.95 each month or save over 10% on a one-year membership for $139. One fee serves your entire family. Anyone living in your home can use the site 24/7. That's right, no per person or per course fees! And you can cancel at anytime.
Here is a coupon code good for a 50% discount on a one year subscription! Enter CREWFOLLOWER in the coupon code box when signing up. This coupon is valid through 1/31/2016.
You can also visit SchoolhouseTeachers.com on their social media sites:
Facebook: https://www.facebook.com/groups/SchoolhouseTeachers/
Twitter: https://twitter.com/TOSMag/
Pinterest: https://www.pinterest.com/tosmag/
Google+:  https://plus.google.com/118111005169451277551/posts


*Disclosure: This post contains affiliate links. If you click the link and purchase something, I will receive a commission.
Please follow and like us: