I recently received the dvd My Son My Savior from FishFlix.com to review. I love finding great Christian movies for my whole family to watch. FishFlix.com has a plethora of Christian movies. From biographies to educational to kids & family movies to Apologectics, prophetic, & evangelistic movies & more! There literally is something for everyone and every family to watch.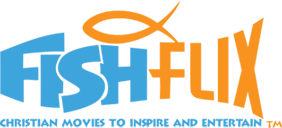 FishFlix.com has a great story behind it. FishFlix.com started over a decade ago when Dr.Enis Sakirgil, a Turkish Christian, became involved in the making of a Christian movie – Apostle Paul and the Earliest Churches. The heart behind this film was to let Christians in the West know about the wealth of Biblical history in Turkey, currently one of the nations least reached with the gospel.
When Dr. Sakirgil immigrated with his family to the United States, he began selling that movie on the internet. Before he knew it, he was selling other Christian Movies and FishFlix.com was born.
FishFlix.com says they exist to create honorable jobs and expand the Kingdom of God in Turkey though their partnership with ministries over there. FishFlix.com believes that media and entertainment are gifts from God that help them spread His message with creativity and excellence.
I haven't purchased from FishFlix.com before. I didn't know about them! I love their purpose and the fact that ministry is their driving force. I plan on purchasing from them in the future.
You can connect with FishFlix.com on these social media channels:
Facebook: https://www.facebook.com/fishflix
Instagram: https://www.instagram.com/FishFlix @FishFlix
Twitter: https://www.twitter.com/ChristianDVD @ChristianDVD
Pinterest: https://www.pinterest.com/fishflix/
Now, on to the My Son My Savior movie review!
I have always wondered exactly what Mary knew about Jesus while he was a baby and growing up. Do you know what I mean? Did she really know everything? My Son My Savior doesn't answer all my questions, because the Bible doesn't tell us much about Mary, so no one (on earth) knows all the answers.
My Son My Savior uses the Gospel accounts of Mary & Jesus as the basis for this movie. At the beginning of the movie you see a young Mary with her father. It then moves on to where the Bible starts discussing Mary, and follows thru to the crucifixion and resurrection.
There is very little extra added to the movie that is not in the Bible. This movie stays close to the Gospel accounts of Jesus' life. I love that My Son My Savior doesn't add extra scenes (except for young Mary) and extra dialogue that isn't in the Bible. So many so called Christian movies have come out in the last few years that are anything but Christian. Thankfully, My Son My Savior is not like those!
My Son My Savior is a well made movie. The cinematography and the actors portrayal of their characters is all excellent. One word of warning. There are crucifixion scenes with a beaten and bloody Jesus. So if you have sensitive young children, you may want to pre-watch to see if it is ok for your young children to watch.
Overall, My Son My Savior is a great Christian movie for the whole family to watch.


Please follow and like us: