From the Marshall Publishing website:
Our goal is to provide lots and lots of media fun for everyone through award-winning DVDs, Books, CDs, CD-roms, and broadcast and internet programming that will amaze, amuse, entertain, and educate.
Our goal is to produce quality programs to watch today and remember for a lifetime.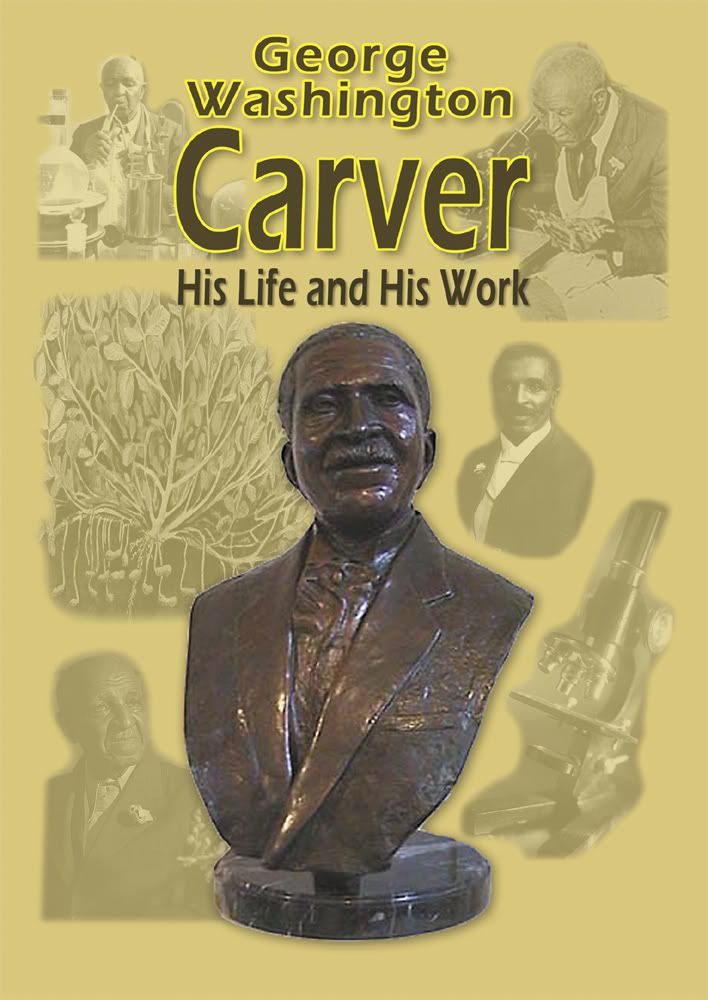 GEORGE WASHINGTON CARVER: His Life and His Work DVD
Born into slavery and reared during the Reconstruction years in the South, George Washington Carver struggled through poor health, poverty and prejudice…to become a great benefactor, not only to his people…but to his country as well. Carver is known in history books as the "peanut man" – for his research into and promotion of alternative crops to cotton. As one of the world's foremost experts in agriculture and horticulture, Carver, through his research and teaching at Tuskegee Institute in Alabama practically reinvented land management in the South. He is said to have compiled a list of over 300 uses for and by-products of peanuts such as cosmetics, dyes and paints, plastics, gasoline and nitroglycerin.
But his work as a creative scientist stretches far beyond that endeavor. He marveled at the world around him and his ability to inspire those closely associated with him may well have been one of his greatest lifetime achievements. As a living example of the importance of hard work, a positive attitude and a good education, Carver was instrumental in changing the stereotype of the time that the black race was intellectually inferior to the white race.
Here then, is the story of Carver's life…a life that should not be forgotten, for it is full of hope, meaning and inspiration. To commemorate his life and inventions, George Washington Carver Recognition Day is celebrated on January 5, the anniversary of Carver's death.
For anyone looking for an inspirational story, for historians, teachers and students, and for young and old alike this DVD featuring stunning photography and a superb original music score is certain to be watched again and again.
© 2009 Marshall Publishing & Promotions, Inc. A Kaw Valley Films Production
As part of The Old Schoolhouse Homeschool Crew, I received the George Washington Carver DVD. I watched it with my four children, ages 16, 15, 13, and 11. It is recommended for 4th grade through adult.
Even as a kid I loved biographies and I remember reading several books about George Washington Carver. I really liked the story of his life. To come from slavery and go on to invent numerous items and devices that are still used is amazing. I didn't know that January 5th was George Washington Carver Recognition Day. I'll have to put that on the calendar. That would be a great day to eat something made with peanuts and watch this dvd again. 🙂
I was excited to get this DVD and share his story with my children. I thought the dvd was very well done. The majority of the 29 minutes dvd is pictures with a voice over and a musical score. I know, that doesn't sound very interesting. But this dvd isn't just a slide show with a monotone narrator. They keep the story moving with interesting pictures and the narrator speaks with feeling. The music is in the background, it's not annoying, fighting for your attention. It makes the viewing more enjoyable.
Near the end, there is a little clip of George Washington Carver himself giving a speech. The clip isn't long, but I was pleasantly surprised to see it.
There is a Study Guide on the website that goes along with this dvd.
George Washington Carver – His Life and His Work is available on the Marshall Publishing website.  The regular price is 24.95. on sale right now for 19.99.  Marshall Publishing has been kind enough to offer a discount to readers of this review. Use code  TOSC1 to save 15% and purchase this dvd for 16.95.
See what other Homeschool Crew Members are saying about Marshall Publishing's videos.

*Disclosure of Material Connection: I received one or more of the products or services
mentioned above for free in the hope that I would mention it on my blog. Regardless, I
only recommend products or services I use personally and believe will be good for my readers.
I am disclosing this in accordance with the Federal Trade Commission's 16 CFR, Part 255:
"Guides Concerning the Use of Endorsements and Testimonials in Advertising."
Please follow and like us: