As part of The Old Schoolhouse Homeschool Crew I received Apologia's Who Am I? to review.

From the Apologia website:
What We Believe
Our children are bombarded on a daily basis with competing messages. Every song, movie, book, TV show, blog, and game is full of ideas—ideas about truth, morality, beauty, identity, faith, and more. Not all of these ideas are true. Some are wrong, some are deceptive, and some are outright destructive. It is more important than ever that young children be equipped to discern among competing ideas and stand in the truth. This is why Apologia has teamed with Summit Ministries to bring you the "What We Believe" Series. The "What We Believe" Series is an outstanding way to teach your child the essential beliefs of the Christian faith, but it's so much more! With this student-directed, Bible-based curriculum, your children will learn how to use Scripture as a lens through which to view the world around them—to see everything the way God sees it—and know the truth.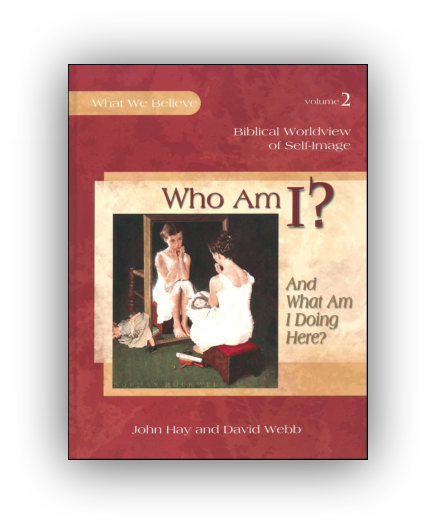 The second book in the What We Believe series, Who Am I? (And What Am I Doing Here?) helps children understand what it means to be fearfully and wonderfully made in the image of the Most High God. This study will enable students to develop a healthy self-image based on these biblical truths: God made me in His image and crowned me with glory; He has given me special gifts and a unique purpose in life; I can creatively express God's love; I am meant to think about beautiful and praiseworthy things, especially God and His Word; I must make decisions based on God's truth; I can always know the wise thing to do; I must cultivate the fruit of the Spirit in my life; I am a beloved child of God whose true identity is found in Christ.
My kids and I enjoyed the lessons in Who Am I? Who Am I? is designed for children ages 6-14. Making it perfect for homeschooling families to read together. Younger and older children could also use it in my opinion. I used Who Am I? with my 11 and 13 year olds.   Who Am I? is designed for students to work at their own pace. Older students can work through the text on their own, while younger students will enjoy your reading the lesson to them, or using the audio book mentioned below.  My kids all enjoy hearing me read out loud, and prefer I do the reading when we're working on something together. I found my 16 and 17 year olds would end up in the room listening, also. I found the stories very interesting myself.  🙂
Children learn about world view and other religions through stories of other children. The stories are interesting, inspiring, and will open your children's eyes to how others live. While at the same time helping them to come to know who they are and how God sees them.
The book is divided into 8 lessons and recommends taking 3 weeks per lesson, working 2 days a week. Each lesson is designed to be flexible, and easily adapted to your families needs. There are several pages in the front of the book to help the parent/teacher help there students get the most out of the lessons. I found these very helpful.
You can view a sample lesson from Who Am I? and the Who Am I? table of contents.
The text suggests the children make notebooks of what they are learning and has ideas for notebook pages in the lessons. Apologia has made this even easier by offering a Notebooking Journal ($24).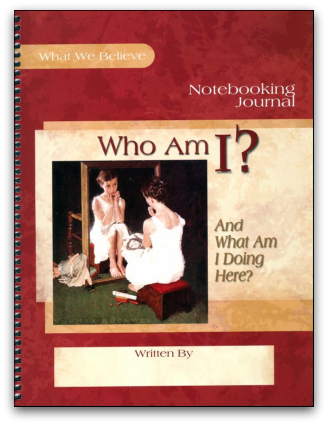 While buying the Notebooking Journal is not necessary to the curriculum, it is a fun and useful book. There are lesson plans in the front so the student knows which pages of the journal go along with which lesson from the text. The Notebooking Journal contains writing prompts, puzzles and more to help your student create a record of what they have learned on it's more than 240 pages. It really helps them to think about what they learned in the lesson and apply it to their lives.  I think this would be best used by older students. I know my 11 year old wouldn't use it to it's fullest, and it's not to "young"  for my 16 and 17 year old to use. The Notebooking Journal is a nice, spiral bound book for your kids to work with and makes an excellent addition to a portfolio. However, I think the $24 price is too high for many families. I know I wouldn't spend almost $100 for notebooks for my 4 kids. We would make our own. That's just my opinion. You may very well think it would be better to spend that much so you didn't have to make notebooks. lol
Also available to make your lessons easier is a Who Am I? Audi Book ($19). How nice it is some days to have someone else do the reading aloud! This is an MP3 CD, which means it won't play in regular cd players. The Cd player has to read MP3 for it to work. It also works on the computer. It includes a MP3 CD player (on the CD, to be used on the computer) that is quick and easy to use. The voices on the CD are calm and clear, making it easy for all to listen.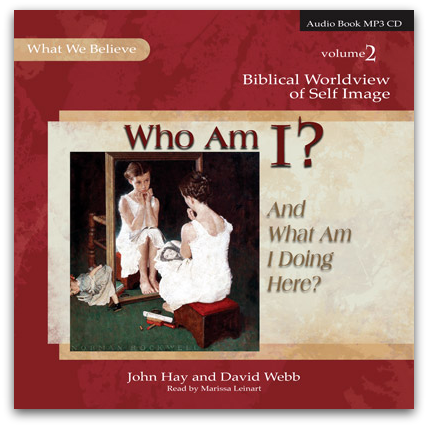 My son loved this Who Am I? Coloring Book ($8.). The coloring book, 64 pages, reinforces what is learned in the lessons. It's perfect for little ones to use while listening to the days lesson. Or for quiet activity later in the day that will help them remember the lesson.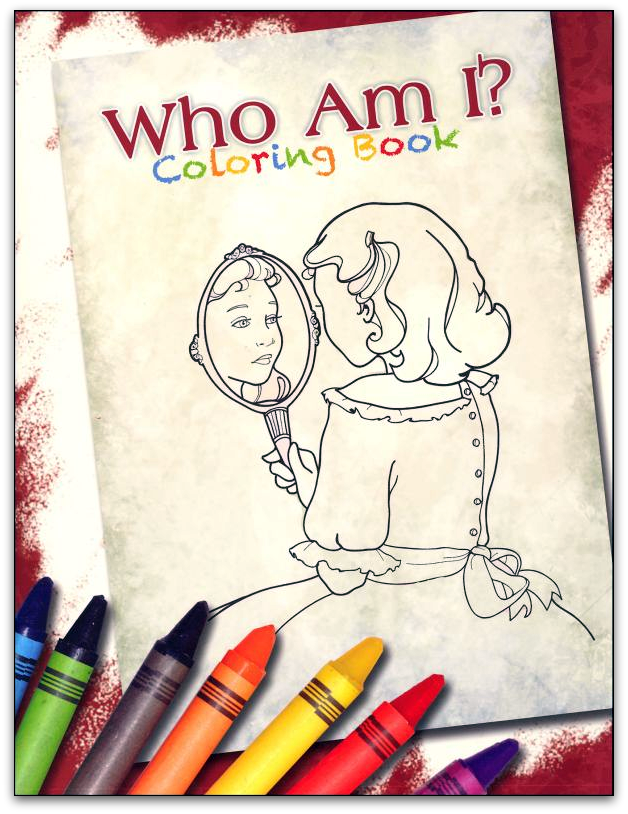 Here's one of the pictures my son colored:
All the pages have either a line from the lesson or a Bible verse at the bottom. I had my son use the coloring book and he loved it.
See what other The Old Schoolhouse Homeschool Crew members are saying about Apologia Who Am I?.

*Disclosure of Material Connection: I received the 4 books as mentioned above for free in the hope that I would mention it on my blog. Regardless, I only recommend products or services I use personally and believe will be good for my readers. I am disclosing this in accordance with the Federal Trade Commission's 16 CFR, Part 255: "Guides Concerning the Use of Endorsements and Testimonials in Advertising."
Please follow and like us: