As part of The Old Schoolhouse Homeschool Crew, I received a set of Creek Edge Press Earth and Space Task Cards to review.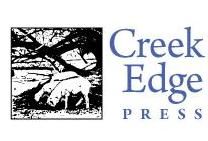 From the Creek Edge Press website:
Creek Edge Press Presents: The Task Card Approach
Our goal is to provide a simple tool that pulls together the best of Classical, Charlotte Mason, and Montessori education. We do this with affordable, topic based Task Card Sets that facilitate discovery based, research oriented, independent learning.
About the Earth and Space Cards:
This K-8 course is comprised of discovery-oriented tasks designed to facilitate engaged learning in earth science, weather, space, the planets, and constellations.  Your students will build a foundation for the study of earth science and space through an investigation of their distinctive features. They will explore weather and be introduced to the wonders of space. An exploration of the planets and constellations that make up our Solar System wrap up the course.
Each Task Card Set includes the cards themselves as well as an Introduction to the course for the Mom or teacher. The Introduction includes instructions for using the cards, step by step instructions for preparing the learning environment, and a guide for selecting books and other materials for the course.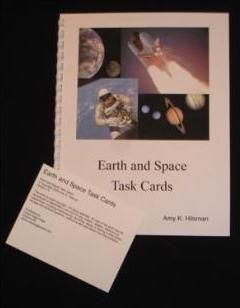 I had my 7th grader use these cards. She loves to to do all her work by herself, so this curriculum is a good fit for her. I have started to cover the cards with clear contact paper to protect them. We can still check off the squares using a marker, and erase it when we're done. That way I can use the cards again with another child. Replacement cards are available for 50 cents each, in case you lose a card or one gets ruined. As a mom of 6, I love that! I can't tell you how many times I've had to replace a school item because one part of it got lost or ruined. Thank you for that option, Creek Edge Press!
Here is one of the Earth and Space cards: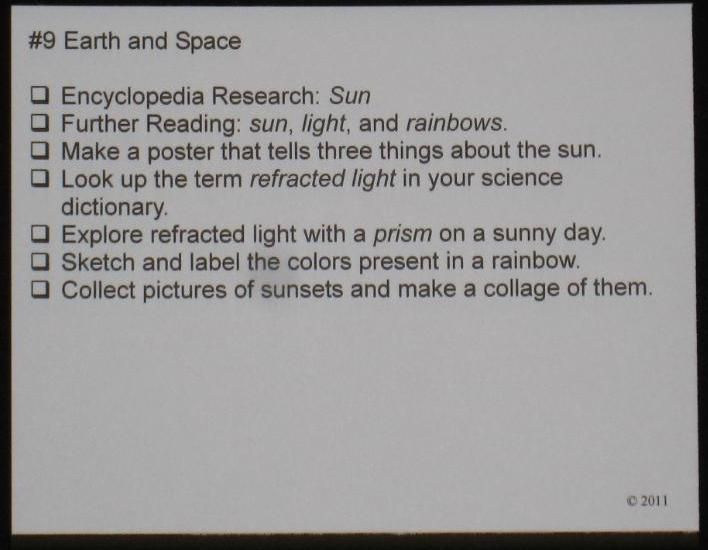 The cards all have a list of activities for the student to do. Some are reading, research, exploring or making something. A poster, something out of clay, a drawing.
In the picture above, you can see the Earth and Space Task Cards Introduction book. It's more of a guide than a teachers manual. It will guide you through using the cards with your students, preparing the learning environment, a book list and more. It also has information on using the task cards in a group setting, such as a co-op. The guide has information on on how to use the cards when the parent wants a more hands on approach to their childs learning, also.
As you can see on the task card above, the student has a list of tasks to accomplish and can work on them at their own pace. The guide suggests taking one week per card. This curriculum is very flexible and you can very easily adjust the time frame to fit your family and students. The task cards are designed to be worked on independently by the student. Younger students may need help with the reading, but most tasks are easily accomplished by the student alone. This is the perfect curriculum to teach students to work independently. Even children that haven't worked independently in the past will have an easy time adjusting to using the task cards. A lot of the activities on the cards are seen as "fun" by kids, such as drawing, making posters or collecting pictures for a collage, making it easy for them to start working on their own.
The tasks cards are not all fun, though. This is not just an art class. The students will learn the same information that they would from a text book. They are just learning it in an environment that encourages independent learning and research. This curriculum is perfect if you use a Classical, Charlotte Mason, and Montessori approach to education. If you use textbooks in your homeschool, these cards are a great way to introduce independent learning to your children. Creek Edge Press Task Cards offer a very thorough curriculum for grades K-8.
I'm loving these task cards and we are going to continue to use them. I will also be purchasing more sets in the future.
Creek Edge Press Earth and Space Task Card Set is available on their website for $18. Creek Edge Press also have other card sets available for science, history, geography, art, music, and grammar reinforcement. To see sample cards from all these subjects, visit Creek Edge Press's Gallery Page. For more information, visit the FAQ page.
See what other The Old Schoolhouse Homeschool Crew Members are saying about Creek Edge Press Task Cards.

*Disclosure of Material Connection: I received a free card set  in the hope that I would mention it on my blog. Regardless, I only recommend products or services I use personally and believe will be good for my readers. I am disclosing this in accordance with the Federal Trade Commission's 16 CFR, Part 255: "Guides Concerning the Use of Endorsements and Testimonials in Advertising."
Please follow and like us: