As part of The Schoolhouse Review Crew I received a download of Family Time Fitness Homeschool Core 1 for ages 4-13 to review. Family Time Fitness is an award winning program that allows parents to teach physical fitness regardless of their training, or lack thereof. Fitness for Homeschools is designed by experts in body movement, kinesiology, training and nutrition.

Family Time Fitness is structured physical activity to help you teach and manage your students physical fitness. Fitness for Homeschools Core 1 includes 260 planned lessons.  They recommend a minimum of 3 lessons per week, with 5 lessons a week strongly recommended. Each lessons takes 30-45 minutes. We tried for 3 lessons a week, although there was a week or two where we only got in 2 lessons. Health professionals recommend exercising 3 times per week, and Family Time Fitness's recommendation agrees with that.
The Fitness 4 Homeschool Curriculum includes a startup guide, PDF lesson plans, video demonstrations, assessment tools, reminder emails, lifetime curriculum and video updates, access to online webinars and certificates of completion.
You can view the Scope and Sequence online.
Here's a short video by  Body Movement Expert Dr. peter Minke talking about Family Fitness and family exercise what it is, what it isn't and why you need it.
The curriculum comes as a download in PDF form. The directions are written clearly and simply. Sometimes though, you really need to see an exercise or activity done to be able to do it properly. I loved that for each exercise there is a link that when clicked opens up a video showing how to do it correctly. We watched most of them. The kids wanted to watch even when we could figure out what to do by reading the lesson.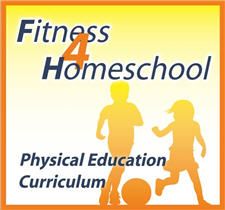 There are only a few pieces of equipment required for the curriculum. Playground balls, hula hoops, jump ropes, cones, bean bags, and the like. No big purchases are required. You may have many of these already. We did. It is recommended to have at least one of each for every two students. It does make it nice though, for each student to have their own. That way they can all do it at the same time. Taking turns does work out well, too, though.
I used this with my 12,14, and 16 year old kids. I had the 16 year old do it with us to help her get ready for volleyball season. This curriculum is great not only for regular physical activity but also for getting kids ready to play sports. There was a lot of complaining the first week or so, as they were all sore. For health reasons, I was unable to participate in the exercising, but I was there for all the sessions, telling the kids what to do and showing them the videos. And sometimes laughing with them. They had fun doing all the exercises and activities. Well, ok, they didn't have fun doing all the exercises. None of them liked the frog squats. I can't say I blame them. lol I plan on  continuing with this curriculum for the rest of the school year. It will be really good this winter when they are unable to do any outside activities.
I asked my kids if I could take pictures or videos of them doing some of the exercises and activities. I was given a resounding "No!" lol Thankfully, Family Time Fitness provided a few pictures. So these are not my kids, and that is not my house.
Bean Bag Shuffle Race
Red Light Green Light – I used to love to play that! lol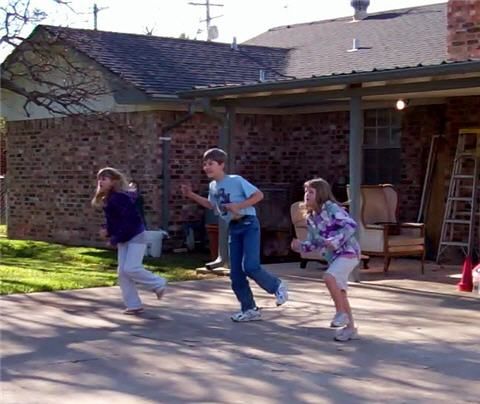 Don't think your students need regularly scheduled physical fitness time? Take a look at this  Brain Scan comparing student after sitting and exercising.
–
A composite of 20 students brains while taking the same test, after sitting quietly and after a 20 minute walk. Clearly, the students were able to think better after exercise. I know I've always used physical activity to tame my boys so they could sit and study. It's nice to see the science behind the theory. It really emphasizes the need for physical activity. So not only is physical activity necessary for good physical health, it's also necessary for good mental health.
One Family Time Fitness curriculum purchase can be used for all your children, there are no subscription fees or annual renewal fees. There are levels for ages 4-13 and 14-18. The entire Fitness 4 Homeschool package with lifetime access to all program updates or revisions is available to your entire homeschool family for just one payment of $57.  Online schools, Co-op pricing and licensing programs are also available, visit the website for more information.

*Disclosure of Material Connection: I received this curriculum in the hope that I would mention it on my blog. Regardless, I only recommend products or services I use personally and believe will be good for my readers. My opinions are my own. I am disclosing this in accordance with the Federal Trade Commission's 16 CFR, Part 255: "Guides Concerning the Use of Endorsements and Testimonials in Advertising."
Please follow and like us: