Beloved Books offers many, many audio versions of books many families already know and love. Some in mp3 format, others on CD, and some on cassettes, also. There are Bible Memory audios, missionary stories, and G.A. Henty audio stories. Also included are The Sugar Creek Gang audios that i'm reviewing today.

My 12 year old son loves The Sugar Creek Gang and I can not keep enough of these books in stock for him. Some of my other kids loved them, too. We've also enjoyed watching The Sugar Creek Gang on tv. Zach was so excited to see these cd's. I didn't tell him they were coming, I just let him open the package when it came in the mail.
–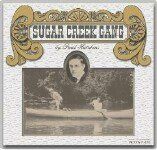 The Sugar Creek Gang Volume One CD set contains the following stories:
The Swamp Robber The Killer Bear The Winter Rescue The Lost Campers Chicago Adventure The Secret Hideout
Each story is on 2 cds, so there are 12 cds included in this set. The packaging is a very nice hard case with vinyl pockets for the cds. This audio version of The Sugar Creek Gang stories is very well done. They are true to the books, with no added background music or other noises.
Listening to these cd's was one thing I did not have to remind my son to do. He would put them in on his one and listen to them himself.  Some days, Zach would listen to two cds. He really loved them.
I just love this picture of the kids gathered in front of the radio listening. My son did not look like this at all. He played them in the living room in our dvd player. So he listened while laying sideways in a chair, or hanging upside down on the couch. I'm sure you other mom's to boys can relate to that. lol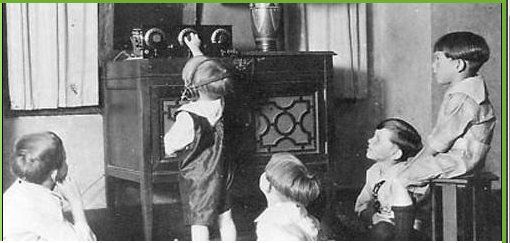 I asked him for a quote about the cds, and here is what he said: "They saved me the reading.They are the same as the book only they are reading it for you." The Sugar Creek Gang audio cds are also perfect for car trips. No loud music or jarring noises so the parents can have a nice ride, too. lol The Sugar Creek Gang Audio Volume One sells for $54.95. There are also 5 other volumes available, as well as a bundle of all 6 for a reduced price. Definitely a good deal if your family loves The Sugar Creek Gang. My son has asked if I'm going to buy anymore volumes. Maybe for Christmas.  🙂 Beloved Books is offering Linda's Lunacy readers a 20% discount off their entire purchase! Just use the code: LUNACY-20

*Disclosure of Material Connection: I received these audio cds to review  in the hope that I would mention it on my blog. Regardless, I only recommend products or services I use personally and believe will be good for my readers. My opinions are my own. I am disclosing this in accordance with the Federal Trade Commission's 16 CFR, Part 255: "Guides Concerning the Use of Endorsements and Testimonials in Advertising."
Please follow and like us: