As part of The Schoolhouse Review Crew, I received a free download of the Knights and Castles lapbook from A Journey Through Learning. (Not affiliate links)
A Journey Through Learning is owned by two homeschooling moms. So you can trust that their lapbooks will be a great addition to your homeschool. This was not my first time using A Journey Through Learning Lapbook, we used one last year during our Olympics unit study. I found both of these lapbooks to be full of great information, easy to implement, and fun for the kids.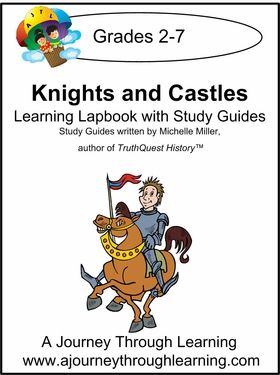 This time, I used the Knights and Castles lapbook with my 12 year old, 6th grade son. Knights and Castles is written for grades 2-7, and contains everything you need for the study, and to complete the lapbook. The guide is 51 pages long. There are reading sheets included, so all the information your student needs to complete the lapbook is included. There is also an additional reading list if you or your student chooses to read more. I had my son use only what was contained in the lapbook study. Knights and Castles is written from a Christian perspective, so you don't have to worry about what is in it. This study starts with the fall of Rome and continues into the Middle Ages. There is even a reading selection on Christianity in the Middle Ages. Zach actually let me include a picture of him with his lapbook! He hadn't studied Knights and Castles before, so he learned a lot from this study. He enjoyed it much more than this picture shows. lol
The Knights and Castles lapbook is a three folder lapbook, meaning it takes three file folders to hold all the pieces. The first activity included in the study was for the student to draw a picture of what they thought Knights and Castles looked like. Zach glued this to the front of his lapbook.
Here you can see most of the three folders. It's hard to fit it all in one picture. You can see come of the different activities included. The castle doors open and there is a picture inside that Zach drew.
This is the left hand side of the lapbook. As you can see, all surfaces of the lapbook have little booklets on them, 20 in all, not counting the picture on the front. At the rate of one booklet a day, this lapbook will take a month to complete. Some days, Zach wanted to do more than one.
Some of the booklets have pages that are turned, some have tabs that you lift to read what the student writes under them. They all contain written information by the student. Because of all the information included, this lapbook is something that Zach can refer to again in the future. It can also be used as a starting point for a deeper study of Knights and Castles when he's older. The additional reading list will make that very easy.
You can view sample pages of Knights and Castles. Knights and Castles is available on the A Journey Through Learning website in three different formats. As an Instant Download, like I received, for $13. On a CD for $14. Or in a Printed format for $21. Whatever the format you choose, Knights and Castles is a great study and lapbook. My son loved it.  


*Note: I am an A Journey Through Learning Affiliate. None of the links in this post are affiliate links. My A Journey Through Learning Affiliate link is in the sidebar over on the right. If you click on it, and purchase something, I will receive a small commission.
Please follow and like us: