As part of the Schoolhouse Review Crew, I received the Rhythm of Handwriting from Logic of English to review. The Logic of English offers a systematic multi-sensory approach to learning how to read, spell and write.The Rhythm of Handwriting, manuscript and cursive, offers an easy to teach approach to handwriting.

I really like that Rhythm of Handwriting can be used by all ages, for the student just learning cursive, or someone wanting to improve their handwriting. There are no cutsie pictures or anything that would make an older child (or adult learner) think this is a little kids book. The demo letters are large,with direction arrows, so the student can easily see how the letter is made, and where to place it on the line. Also included are the pronunciations of each letter. Letters are grouped by initial stroke, making it easier for the student to master the strokes.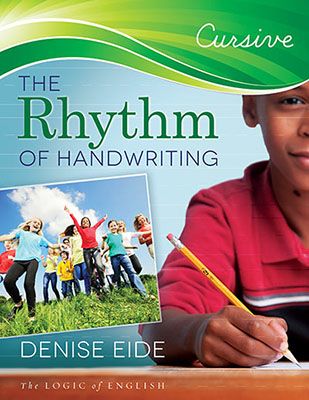 There is no teachers manual, as Rhythm of Handwriting has teachers resources in the front of the book. Included are sections on how to teach cursive, suggested schedules, handwriting tips, and ideas for handwriting practice. I also really liked that there is a lot of practice work in the book. There are plenty of lines on all the pages, so unless you want your child to do extra practice, no seperate handwriting paper is necessary. The different size lines in the lessons help the student to move from writing large letters to writing smaller letters as they master each letter.
I used Rhythm of Handwriting Cursive with my 13 year old, 7th grade son. I had tried to teach him cursive before, but he just wasn't interested. Now that he is a little older, he has been doing well with this course. Here's what he had to say:
"It's hard. And it's ok. It's helping me to learn cursive." – Zach
In addition to the course book, I also received a Rhythm of Handwriting Quick Reference Chart. While not necessary, this chart will come in handy when he starts using cursive in his other writings. No need for the student to drag out their book, (or ask Mom how to write a letter!). They can simply pull this chart out of their desk or notebook to refer to. There is more to the chart than you can see in the picture. The chart opens up to 4 pages, with both upper and lowercase letters shown, and includes samples of all the strokes.
There are videos on teaching handwriting, and sample pages from the Rhythm of Handwriting available on the website.
The Rhythm of Handwriting Cursive book sells for $15  and the Rhythm of Handwriting Quick Reference Chart sells for $10. on the website.

Please follow and like us: