I recently received online access to
HomeSchoolPiano
so I could try it with my kids.
HomeSchoolPiano – Complete Set of Books
offers piano lessons for beginners through advanced. HomeSchoolPiano is suitable for all ages. Yes, even adults can learn to play the piano easily!

I used HomeSchoolPiano with my 15 year old daughter. She has had 2-3 years of lessons, but it has been about 5 years since she had an in person lesson with a piano teacher. She has continued to play, though, for her own enjoyment, and in a church youth band.

HomeSchoolPiano is divided into three books. Each book has six units. Each unit is divided into seven lessons. Each lesson is up to 10 minutes long. The website has a complete listing of what is covered in each book. You can also take a free lesson.
Book 1 = for the beginner, or some who is maybe brushing the dust off and coming back to piano
Book 2 = for the beginner to intermediate student (starts incorporating more complicated concepts, songs and improvisation ideas)
Book 3 = for the intermediate student (toward the end of this book we are getting into concepts like syncopation, voice leading and more advanced scales for improvisation)
I had my daughter look through the lessons to decide where she needed to begin. After looking through the course, she decided to start with book 1. She said there were topics covered that she hadn't learned in her lessons. She liked that she could take the laptop or tablet to the piano and easily complete her lessons.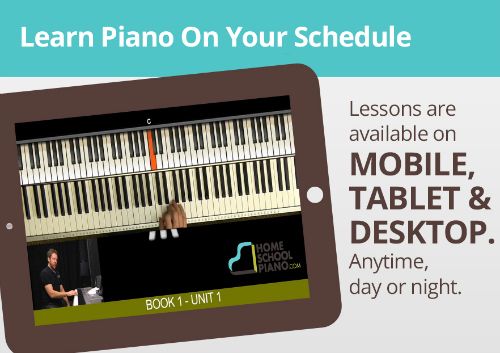 The instructor in the video is thorough in his instruction. He explains everything very well. The student has the ability to stop and start a lesson, or to replay a portion of a lesson. You do have to print out the music for the student to use. If you are using this with more than one student, you need only print one copy and have them share it. I put the music in a notebook, making it easy for her to flip through. Online quizzes are included in some units, as well as a few workbook pages.

I love that the lessons have the different areas of piano study overlapping. I was expecting that my daughter could just pick and choose the lessons for the techniques she needed to learn. Instead, she started at the beginning and moved through the techniques that she already knew faster. This has also been a great refresher for her. Making sure she hasn't gotten lazy with her technique.
I think the rate of 2 lessons a week, with practice sessions in between would be attainable for most kids. Since my daughter didn't need as much practice between the lessons she already knew, she was able to move faster. That's the beauty of HomeSchoolPiano. The student can work at their own pace, fast or slow, or anything in between. Even repeating lessons if needed.  It's easier to work at your own pace with HomeSchoolPiano, than with a piano teacher in person.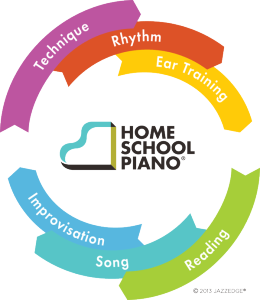 I'm looking forward to Abby finishing HomeSchoolPiano so she can learn more technique and improvisation. These will really help her when she plays in the band.
She consented to my recording her playing one of the songs from HomeSchoolPiano. She really liked playing this lively little tune.
HomeSchoolPiano offers two payment plans to make it easy for families.
The Success Package (One payment of $299) includes unlimited life-time access to HomeSchoolPiano along with all bonuses (downloads, jam tracks, sheet music) for up to 5 students.
The Payment Plan (Payments of $99.97 per month for three months): offers unlimited life-time access to HomeSchoolPiano along with all bonuses (downloads, jam tracks, sheet music) for up to 5 students.
Did you see that? Unlimited life-time access to HomeSchoolPiano! Perfect for homeschooling families. But don't just take my word for it. See what other homeschool families have to say about HomeSchoolPiano.


Please follow and like us: