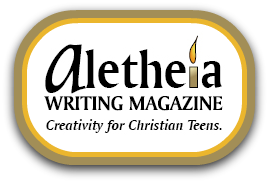 Aletheia Writing Magazine is a quarterly magazine focusing on the literary and artistic works of Christian teens. Aletheia is a Greek word meaning "truth" or "unveiling". It's pronounced Ah-LAY-thei-uh.
Aletheia gives Christian teens, homeschoolers and non-homeschoolers alike, the chance to have their work published. They publish stories, both short and longer, as well as poems, photographs, drawings, and even book reviews. All of their own choosing. The teens even pick the books they want to review.
Their website has a great has a great writing tips section. Their FAQ page tells you just what they are looking for in submissions. They even have a Aletheia Writing Magazine Facebook Page.
There is no monetary compensation, but if you do get published in Aletheia, they will send you three free copies of your issue so you can share it with family and friends.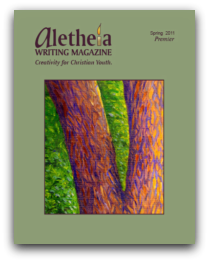 Aletheia Writing Magazine is a great opportunity for Christian teens to get their work published. I hope some of my teens will submit their work!
You can view a sample of their Spring 2011 issue here.
The issue I received only had a couple of ads in it. These were the type of ads you would see in a homeschool magazine. So no offensive ads like you would see in other magazines geared towards teens. I was very happy to see that.
You can purchase a subscription to Aletheia Writing Magazine for $26 per year. A subscription includes four color issues per year, and the price includes shipping and handling.
*Aletheia Writing Magazine is geared toward youth ages 13 to 19. Because contributors' ages vary, the maturity level of situational content may also vary. Please keep that in mind when giving this magazine to your younger teens. You might want to preview it first.
To see what other crew members are saying about Aletheia Writing Magazine visit the crew review post.

*Disclosure of Material Connection: I received one or more of the products or services
mentioned above for free in the hope that I would mention it on my blog. Regardless, I
only recommend products or services I use personally and believe will be good for my readers.
I am disclosing this in accordance with the Federal Trade Commission's 16 CFR, Part 255:
"Guides Concerning the Use of Endorsements and Testimonials in Advertising."
Please follow and like us: