As part of The Schoolhouse Review Crew, I received Super Duper Publications Auditory Memory software program to review.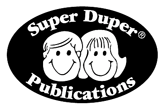 Join Recall Agents Kim and Joey to save MemoryTown from Dr. Forgetsit while practicing important auditory memory, closure, and comprehension skills. HearBuilder Auditory Memory teaches key strategies for remembering numbers, words, sentences, and stories. This research-based software includes five essential listening activities:

Memory for numbers (3–7 digits)
Memory for words
(3–5 words organized by syllable)
Memory for details (1–4 details)

Auditory Closure (Sentence Completion)
Memory for WH Information
(2–3 sentences/2–4 questions)

Each of the multi-level tasks in HearBuilder Auditory Memory takes your students on a different mission to foil the wacky plans of Dr. Forgetsit. The humorous and captivating adventures will keep your students motivated as they develop and strengthen their abilities to recall verbal information.
Hear Builder Auditory Memory is software for grades K-8. I used this with my almost 12 year old son who is starting 6th grade. When I saw this, I thought it would be great for my son. What 11/12 year old boy doesn't need help with auditory memory? Think about it, how many times have you told your child to do several things, and they only remember the first one?
Dr. Forgetsit, the main character in the software, makes the work fun for the kids. My older kids would gather around the computer while Zach was working, what they heard made them curious. Since the home edition can be used for up to 4 students,  I think I'll have some of the others work with this program when we go back to school next month. I just might give it a go, too!
Zach loved this program. As soon as we opened the package, he grabbed the cd and started. He didn't even wait for me, he put it in and took off. There is no long set up process like educational programs often have. Within a couple of minutes he was working away, and had to catch me up with what he was doing.. And I was in the same room with him when he started! lol
As you can see from these screen shots, the pictures are bright, colorful, and fun.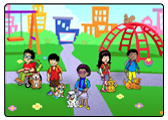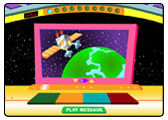 While the graphics and animation are not as "high tech" as software you may be used to seeing, don't judge the quality of the program by the pictures.  This interactive software really does work to increase children's memory. As my son worked with this software, I could see how much he progressed. The program is fun, too, so he didn't feel like he was working hard.
The program keeps track of your students progress. If you have more than one computer, make sure to use it on the same computer all the time as the info is stored on your computer. This provides an easy way to monitor your child's progress. There are even printable progress reports. Good reinforcement for those children that need it.
Here's a video so you can see for yourself how the software works.
http://www.youtube.com/watch?v=oMKg3HQajkA&feature=player_embedded#!
Try Memory Builders yourself! There are 6 different sections to try on that page, so you'll really get a feel for the program and see how it would work for your children.
HearBuilder Auditory Memory Software home edition is available for $69.95. Right now, HearBuilder is offering a coupon code:       BLGAM30     Use it to save 30%  on your purchase.  Coupon expires 8/31/12.   The Schoolhouse Review Crew reviewed several other Super Duper Publications products, click the graphic below to check out the other reviews for more coupon codes,

*Disclosure of Material Connection: I received a free cd  in the hope that I would mention it on my blog. Regardless, I only recommend products or services I use personally and believe will be good for my readers. My opinions are my own. I am disclosing this in accordance with the Federal Trade Commission's 16 CFR, Part 255: "Guides Concerning the Use of Endorsements and Testimonials in Advertising."
Please follow and like us: