As part of The Schoolhouse Review Crew, I received the National Tax Training School Federal Tax Course to review. The National Tax Training School Federal Tax Course is a complete tax course. This clear and thorough  program, teaches everything you need to know to start and operate your own tax practice, accept a well-paid job preparing tax returns in an accounting or tax preparation firm, or simply save yourself money by doing your own personal tax returns.  

When you have successfully completed our course, you will have the knowledge and confidence to prepare tax returns for clients anywhere.  No previous experience in tax work necessary to take this course. After successfully completing our Federal Income Tax Course you will also be ready to take the required IRS Registered Tax Preparer (RTRP) exam.
Pictured below, is the binder with the first 17 lessons of the course. You work through the course at your own pace. Each of the seventeen lessons take approximately eight study hours to complete. The course can be finished in as little as eight weeks. The National Tax Training School gives students up to one year to finish the course. If you are unable to complete it within the one year, you can pay $50 more for a six month extension.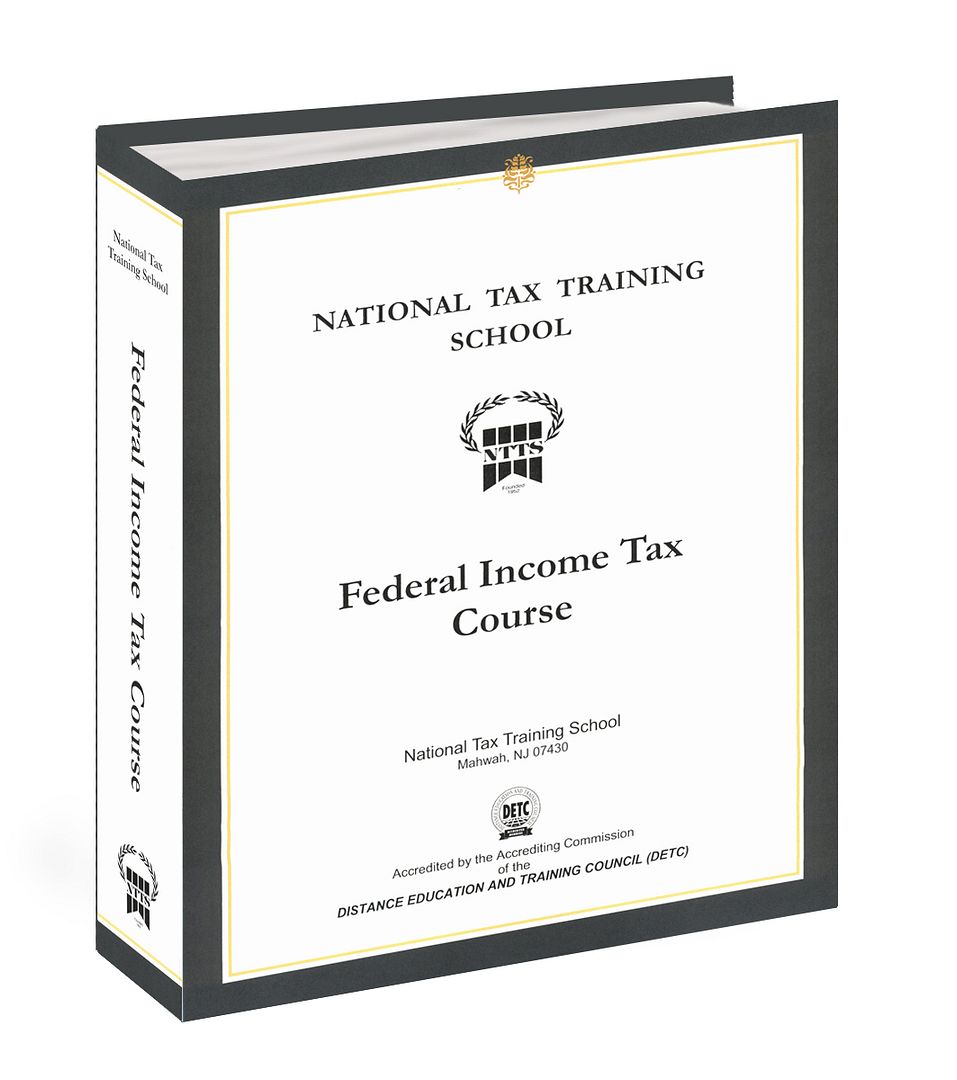 After studying the lesson, the student  takes a practice self test to check their progress. The answers and explanations are included. I liked this, I could study, then take the self test to make sure I understood everything in the lesson. Once your ready, you take the actual test included in the lesson. I went through the test marking my answers in pencil first. Then went back and checked everything before finally marking my answers in ink. Self addressed envelopes are included with the course. You send your test in, and you receive the corrected test in the mail. They say they grade and return the tests on the day they receive them.  I have mailed in and received back two tests. I mailed test #3 last Monday, the 15th, and have not received it back yet. The student pays postage to send the test, and the school pays the postage to return the test. When you receive your graded test back, you also receive a solutions sheet. This sheet tells you the correct answer for every question on the test, and also explains it. These are my actual tests.
Because of the time sensitive nature of tax law, once the student completes lesson 17, the remainder of the course is sent. This ensures that the student receives up to date information, since tax laws can and do change every year. For review purposes, I received the second half of the course early. Here is what I received in the second shipment.
I received the final three lessons, the final exam, a booklet about the preparers test, a booklet about preparing state returns, the ATX folder is an evaluation package for tax and accounting software. The Federal Tax Handbook 2012 is a very thick book. The Tax Practice Book is a practical, step by step working guide to running a tax practice. Both of those books will be invaluable resources for setting up and running a tax preparer business. Years ago, I worked in the corporate taxes department of a corporation. It was in this office that I first learned how to prepare tax returns. I was allowed access to all the tax code books, and I taught myself how to prepare my own taxes. I prepared our taxes for many years. So I am familiar with much of the tax lingo, even though the tax code has changed since way back then. I started paying someone to do our taxes a few years ago. Our tax returns got more involved, and I wanted to make sure they were done right. I'm finding this course to be very thorough.  The lessons have a lot of examples to work through that really help you learn the information. While reading some of the examples, I thought I'll never have to fill out any forms with under these conditions, as no one around here would ever be in those situations. In case I ever do, though, I'll be prepared. After going through the lessons, I really felt prepared for the self test, and then the actual test. You don't start filling out tax forms right away. There are tax forms included in the lessons for you to get familiar with, but you don't fill them out until later on in the course. The National Tax Training School recently launched an online version of the course. I haven't taken any of my tests online yet, but I did visit to check it out. The online version contains everything that the paper version does. In fact, the online version contains pictures of the pages from the book on the screen, you scroll from page to page. You can also take the practice test and the tests online. I, myself, am preferring the paper version. For example, in the online version, you only have one try to answer the questions on the test. I like to be able to go back and check all my answers a final time before turning the test in. It is nice that an online version is being offered for those that prefer it.   Even though the review period is over, I will complete the course. My goal is to complete the course in time to do my own taxes next year. Of which I will be very thankful to do. The price to have our taxes prepared goes up every year. I may even work part time preparing tax returns for others. I'll have to see how that works out next year. I have another idea for using the information that I learned in this course on a more year round basis. I'll have to see how that works out, too. If you are looking for a course that will prepare you to do your own taxes or work as a tax preparer, visit the National Tax Training School website for more information.  There are two levels of the course available.  Option One, available for $795, includes four years of post graduate support. Option Two, available for $495, includes two years of post graduate support. Both of the options offer payment plans. Visit the Course Materials page to see exactly what is included in the course and with the post graduate support. Once you complete this course, there is a Higher Tax Course available to take. Upon completion of this course you will be able to prepare taxes for partnerships, corporations & fiduciaries, and will prepare you for the IRS Special Enrollment Examination.   The National Tax Training School is recognized by:

and approved by:

and BBB rated:


*Disclosure of Material Connection: I received this course to review  in the hope that I would mention it on my blog. Regardless, I only recommend products or services I use personally and believe will be good for my readers. My opinions are my own. I am disclosing this in accordance with the Federal Trade Commission's 16 CFR, Part 255: "Guides Concerning the Use of Endorsements and Testimonials in Advertising."
Please follow and like us: