As part of the Schoolhouse Review Crew, I recently received the ebook Jim Elliot: One Great Purpose and the Jim Elliot: Unit Study Curriculum Guide from YWAM Publishing to review. I had never heard of YWAM Publishing before receiving this book. So I spent some time on the website checking them out. YWAM Publishing is the publishing division of Youth with a Mission. They offer a great variety of books. From biographies, to international adventure books, to homeschooling, to books on Christian living, and missions. And much more.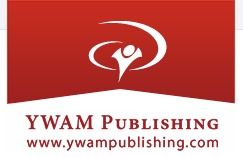 I received the Kindle version of this book. I also received a copy of the study guide in PDF form for the review. The paperback book is 192 pages long, and all versions of the book, print and digital, sell for $6.99 on the website. The Unit Study Curriculum Guide is only available in paperback form, which is 62 pages long, and sells on the website for $7.49. You can view sample pages of the Unit Study Curriculum Guide on the website. There is also bonus material available on the website that can be downloaded for free, a crossword puzzle and a Jim Elliot coloring sheet.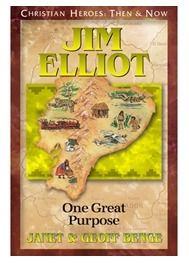 Jim Elliot One Great Purpose is written for ages 10 and up. Adults will enjoy this biography as well, it's not a watered down version just for kids. It tells Jim Elliot's story of going to Ecuador as a missionary with his wife and family. He was joined by other missionaries and their families as well.  The reader learns why he went, what it was like for the families to live in the jungles of Ecuador, as well as what they did to reach the people with the good news of the Gospel.
I had my 13 year old, 7th grade son read this book. He read it on the Kindle. He really liked reading the book. He would ask for my Kindle so he could read it.
The Jim Elliot Unit Study Curriculum Guide can be used with all grade levels, from elementary through high school. It can be used individually or with a group. Copyright is granted for the student pages for families, and for the classroom or co-op.
The unit study is divided into eight sections:
Key Bible Verses – includes four Bible verses and ways to use them with the unit study
Display Corner- contains ideas to set up Ecuadoran display
Chapter Questions- includes four questions for each chapter of the book, a vocabulary question, a factual question, a comprehension question, and an opinion or interpretation question
Student Explorations- contains a variety of activities for all learning styles, essay questions, creative writing, hands on projects, audio/visual projects, arts and crafts, as well as Spanish language examples
Community Links- includes ideas for field trips, as well as ideas for questions to ask missionaries, Ecuadoran people, Bible translators, or travel agents
Social Studies- includes places, and the journeys that Jim Elliot took, vocabulary, drawing maps of Ecuador, and more
Related Themes to Explore- ideas to incorporate other subject areas in the unit study
Culminating Event– great ideas for having an end of unit study party, food, music, displaying the students work, etc.
An appendix with books and other resources, as well as the answers to the chapter questions round out this unit study. I think there is plenty of work included for the unit study to last at least a month. Of course, that is going to vary according to how many or how few of the activities you choose and how many days a week you spend on it.
There are four worksheets for the students. An Ecuador Fact Sheet, and three maps. The World, the United States, and Ecuador.
One of the activities in the unit study was for the student to draw their own cover for the book, and write their own blurb for the back of the book. Here is my sons.
His blurb says, "In the end of the book, Jim, Pete, Nate, and the others get………You need to read the book to find out about what happened."   lol I think he nailed that. lol
My son loved Jim Elliot One Great Purpose, and the activities we did from the Jim Elliot Unit Study Curriculum Guide. It has really sparked his interest in the people of Ecuador, and missionaries.


Please follow and like us: