I have been using The Power in Your Hands: Writing Nonfiction in High School, 2nd Edition, $45, from Writing with Sharon Watson with my 10th grade son. The Power in Your Hands: Writing Nonfiction in High School is a homeschool writing program for students in grades 9-12. It can be completed in 1, 2, or 3 years by following the instructions in the teachers manual, $20. You can view samples of both the student book and the teachers manual on the website linked above.
Sharon Watson homeschooled for 18 years. She taught several subjects to other homeschoolers during that time period, led a homeschool group, and started an educational homeschool group. She has several homeschool writing courses available on her website for both middle school and high school.

Three years ago, I reviewed the first edition of The Power in Your Hands: Writing Nonfiction in High School.
What's different between the 1st edition and the 2nd? The 2nd edition includes:
Newly numbered lessons to easily keep track of daily work
Students learn common grammar mistakes (7 lessons).
The emotional appeal speech is shorter and easier to understand.
Students can look up items in the new index.
Specific grading grids in the Teacher's Guide make grading essays a lot easier
The chapter on the old SAT essay has been removed. There is a link to the content of this chapter on the website.
The Power in Your Hands: Writing Nonfiction in High School features 23 student directed lessons with little to no prep for the teacher. There are 117 suggested daily lessons, with complete instructions for 21 essays, reports, articles, and narratives. This course begins with composition basics so it can be used with beginning writers, as well as more experienced writers.
In this high school writing course, students will learn brainstorming, how to organize their thoughts, use appropriate point orders, citing sources, introduction and conclusion know-how, proofreading, writing for a specific audience, and much more. There are many references in the back of the book the student book. Some of these are Be Your Own Editor, Paragraph Essentials, Do List for Persuasion, Don't List for Persuasion, How to Write a How-To, and nine more.
The lessons vary in size , but always include at least a page or two of instruction for the student to read. The student does not write a complete essay in each lesson, especially in the beginning. While they are learning how to write non-fiction, the student will start with brainstorming, how to put their ideas in order, writing questions and statements, and more leading the student learning how to write a complete essay.
I like that the essay assignments include a writing checklist for the student. These checklists tell the student what they need to make sure they completed and what they will be graded on. This encourages the student to proofread their own work before turning in in to the teacher to be graded.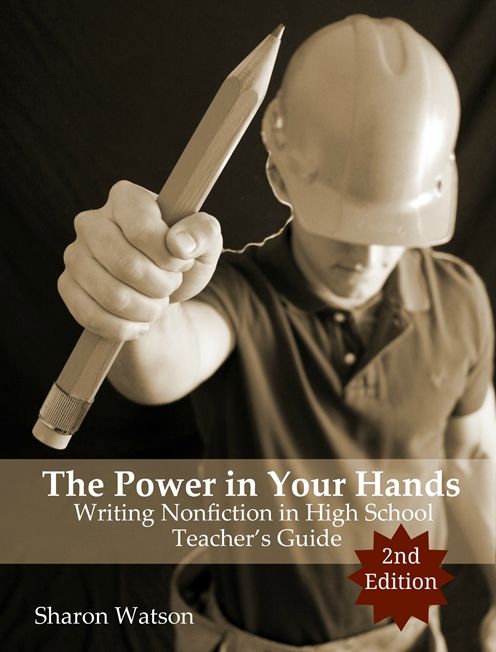 One of the hardest parts about teaching high school writing is the grading. Grading writing can be so subjective. And of course, we think what our beloved students write is brilliant. I love that the Teachers manual has a grading grid for each essay that is easy to use.  You can see one of the the grading grids below. The grading grids are the only pages in the high school writing course that can be copied. These pages can be copied for each of the students in your homeschool, classroom, or co-op class.
I really like that there is room for the teacher to write comments, then give the page to the student. The student can plainly see how their essay was graded. I think this helps the student to take constructive criticism of something so personal as their writing. They can easily see what they did good at, and what they need to improve on. Without thinking that Mom is being too picky.
The one thing I wish the teachers manual included was some guidance on giving high school credit. Especially for those that take 2-3 years to complete the course.
Overall, The Power in Your Hands: Writing Nonfiction in High School is a great home school high school writing course that will prepare your student for writing in high school and college.


Please follow and like us: