I started out in January making Blog Goals for the first time. Then quickly posted Amended Blog Goals before the month was out. lol
February found me have having another birthday. Wait until you see what I have planned for my birthday this year!
In March, my daughter gave me a Makeover and Photo Session. I still use one of the pictures as my profile picture!
April found me starting the Saturday on the Farm Carnival. Saturday on the Farm will be re-starting in March. So remember when you start working in your gardens to come back for a visit!
In May, I shared how we make Acne Soap. This soap really works great for my kids, and everyone that we've shared it with.
In June, I got a new laptop! ah….I could spend more time blogging without hogging the family computer! My family thanked me for letting them have their computer back. lol
July found me starting The Bible in 90 Days Challenge. There's a new session starting on January 3rd. Come join me in reading the Bible!
In August, my OpenSky Shop opened! I was so excited. lol I still love having my own OpenSky Shop!
My favorite post from September, is a Wordless Wednesday picture of my daughter. I love it!
In October, I completed The Bible in 90 Days Challenge! I shared The Country Woman and Her Gun. There's a reason I named my blog Linda's Lunacy. lol I started a new blog hop called Sunny Saturday, and I've been having so much fun with it.
November found me sharing about Our Thanksgiving and Our Advent Season. I shared lots of our family traditions. This month, I also have a great time participating in the Holiday Gift Giveaway Hop. I had so much fun participating and giving away great gifts. I even won a couple! I'm participating in another awesome hop, The Handmade with Love Winter Giveaway Hop, in February.
In December, I shared some more of our family traditions with Our Chanukah, and Our Christmas.
According to my stats, here are the…..
Top 10 Linda's Lunacy Posts of 2010
Crock Pot Cheeseburgers
Snow Candy
Holiday Gift Giveaway Hop
Brownies For a Crowd
Chocolate Chip Cookie Pie
Freezer Cooking Session
How to Make a Housecleaning List
The World's Easiest Candy
Chocolate Marble Loaf

S'more Parfaits
I find it interesting that 8 out of the 10 are for food! lol
May God Bless you and keep you in 2011!
Please visit:
2010 Blog Recap Carnival
2010 In Pictures and Posts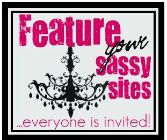 Please follow and like us: